In His Own Words: Bob "Shakin" Aiken 
Drummer Bob Aiken has long been a fixture in the local music community and has a string of friends, fans, and band-mates as a result. His story, from tapping with pencils and sticks to the drum throne has a cadence uniquely his own. And here it is, in his own words: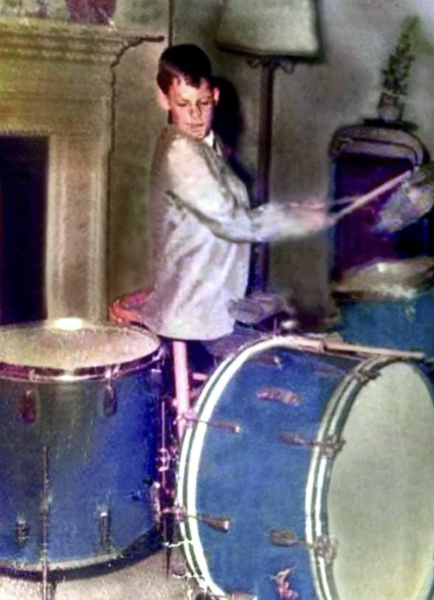 I was raised in the middle of Snow Hill and lived next door to my grandfather, who was a self-taught piano player. I remember as a toddler sitting in his lap or beside him as he played a chopping rhythmic ragtime style. I guess that's where I get my influence for keeping time. My parents enjoyed dancing and listening to music, and I can't help but think some of their musical rhythms rubbed off on me somehow. As for my attraction to drums, my dad liked Dixieland style music and I recall the joy of him playing records and noting the rhythms of the drummer in the original Preservation Hall Jazz Band. He also introduced me to the jazz drummer and showman Gene Krupa, who fronted his own orchestra and had an energetic style of drumming. He was cool and I liked his style. 
The first real drum set I ever saw was when Fats Domino and his band were setting up their equipment for a gig in Snow Hill at the National Guard Armory. I was probably 7 or 8, and the Armory was just a few blocks from my home. I rode by on my bicycle one day and this big bus was parked in the back of the Armory. As the doors to the Armory were open, I threw my bike on the ground and strolled inside to observe. I was drawn to the drummer as he meticulously set up his drum set. I remember two things from that day. I recall Fats wearing several large multi clustered diamond rings, the likes I'd never seen before, and I remember the drummer allowing me to stand next to him as he assembled his kit. I recall him letting me tap the drum with a drumstick and I immediately knew the power and attention that a drum could command. (At the time I didn't even know who Fats Domino was.)
Until I actually got my first drum set, I would play whatever rhythms bounced around in my head with dinner knives, pencils, or sticks from the yard…tapping on table tops, trash can bottoms, pots and pans, desk tops, or any other object. That is how I learned to play the ever popular "Wipeout " drum solo.  As I advanced, I would actually sit on a stool with imaginary sticks in hand and play imaginary air drums accompanying whatever records were available on the family stereo. While playing air drums, I could distinctly hear the various drum sounds in my head and learned naturally what drum or cymbal was to be played where and when. That is where I developed my drumming chops and no one could even hear me.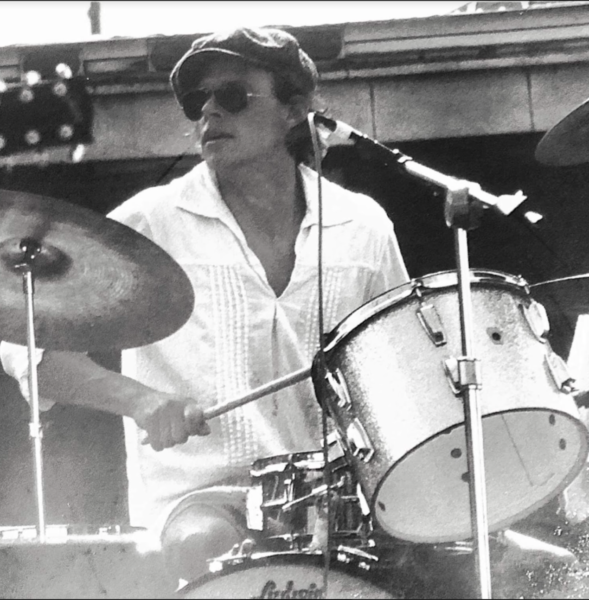 When I was 10, my parents allowed me to purchase an old set of Slingerland drums for $75. I practiced and played along with every record I could find on the family stereo. The stereo along with my drums were in the family formal living room and the volume was usually set as high as I could get it. I played as often as possible when my parents were away from home.
At that time, the British Invasion had taken hold and was a big influence for my musical choices, with the likes of the Beatles, the Rolling Stones, and the Kinks.  I remember playing in my first band at 10 with two buddies my age. We were called the Toboggans. There was a trumpet, a saxophone, and my drums. We didn't know anyone else that had an instrument so we did the best we could with what we had. That followed with the next four years of me reaching out, with sporadic success, attempting to connect with other young like-minded spirits with a thirst to play. During that time I also joined the school band. I received a great percussion foundation as we had an actual percussion instructor. I learned my drum rudiments, time signatures, and how to read drum music. I played in the school symphony, the jazz band, and the marching band. I even played timpani drums for a while. 
In 1966 at 14, my world changed when I joined a 10-piece band from Kinston called the Atlantic Coast Show. (Visualize the Temptations, Four Tops, Drifters.) We were probably one of the first integrated bands in North Carolina, which was pretty remarkable at that time. We were a professional act that toured mostly the Carolinas, Virginia, and DC occasionally. We were coached by our management team to produce a professional and quality performance. Early on we recorded an album at Arthur Smith Studios in Charlotte–a collectible to this day. Of note, James Brown and his Fabulous Flames had just finished recording "Papa's Got a Brand New Bag" at that same studio. As was prevalent in eastern NC at the time, we played rhythm and blues and soul music. I recall the fun I had traveling, playing beach clubs, weddings, Junior-Senior Proms, debutante balls, military bases, showcases, teen clubs, and fraternity parties (think Animal House).
As the times and I were changing, I finished high school and attended Appalachian State University. While there my musical influences were greatly expanded; however, my drum playing time was reduced due to academic endeavors. I do recall playing in a jam band for a while called Sheets. We covered Grateful Dead material, played at house parties, and a couple of times on the campus mall to a very receptive audience. 
I began graduate school at ECU in 1977. At that time, Greenville had an extremely active music scene with many venues presenting live music practically every night. I recall attending a large party one night in the country and there were several guys jamming on the front porch of this big house. They had a set of drums but no drummer, thus I crawled onto the drum seat and started jamming with them. They were very good. As a result, that led to a lengthy tenure with the Jerry Thomas Band. Jerry was the father of national country sensations Matt and Scott Thomas of Parmalee fame. He is also responsible for providing  me with the moniker Shakin' Aiken.
During this period, it seemed as though music was everywhere for me and I soon found myself juggling several bands at the same time. It was in 1979 that I began playing with singer/songwriter Tommy Gillespie and his band Tommy G and Company. Also playing in that band was songwriter Mike Hamer. It was shortly thereafter that the Lemon Sisters and Rutabaga Brothers united and Mike asked me to join. That musical journey lasted for nearly 40 years. There are many great memories with that band, but the best memory is how fortunate I was to participate with such a fine group of fun and talented individuals, how well we all got along, and the joy displayed by the many people we performed to over the years.
During the '80s, I was also fortunate to play with blues extraordinaire Lightnin' Wells in various blues band configurations thus leading to a recording session with legendary blues artist Big Boy Henry. As Bob Tunnell was a member of that session, it wasn't long before a little three piece band was formed as Bad Bob and the Rockin' Horses.There is a lot of work to pull off a three piece band with any significance but we worked it with energy and enthusiasm for maybe five years. It was not unusual for us to play two to three nights a week all over NC from the mountains to the coast and basically any area between Charleston to Richmond. 
In 1993 as age was creeping up on me and I was forced to become more active in my professional career, I became a little less musically active although I played when called upon and when time allowed. My professional career was another story; however, I am now retired and was even awarded the Order of the Longleaf Pine by the governor for my contributions. 
Now enjoying life and with time on my hands, I am still playing and have the leisure to pick and choose my drumming endeavors. As of late I have worked, performed, and recorded with Greenville's talented nu clear twins and for the past 10 years I have recorded with and been the drummer for the Donald Underwood Thompson Band. 
I have been playing drums for 58 years. I have explored all styles of music. Playing drums has opened many doors in my life and brought me together with many lifelong friendships and wonderful memories. It has presented tons of fun. I wouldn't change a thing and given the opportunity I would do it all over again.
Bob's Bands
The Atlantic Coast Show
Sheets
Jerry Thomas Band
Tommy G and Company
Lightnin' Wells
Blues Plus
Secret Agents
Lemon Sisters and Rutabega Brothers
Big Boy Henry
Bad Bob and the Rocking Horses
Mike Hamer and the Rhinoceroses 
Tommy G and Company (again)
August Beauty and That Fool Moon
nu clear twins
Donald Underwood Thompson Band
• • • 
Originally published in the Daily Reflector on November 27, 2021.