The Bluegrass and Country Squire: Donald Dunn
In these parts, Duplin County's claims to fame are arguably muscadine wine and a restaurant worth driving to for a special occasion, the Country Squire. But apparently the county due south can add to their list of credits: musician Donald Dunn, now happily transplanted to Winterville, was born and raised there.
Dunn, or "Duck" as he is sometimes called, said his whole family worked at the Country Squire at one time or another. He did yard maintenance there when he was in high school. And yes, apparently there is still a tree growing inside, and goldfish ponds. 
It was in the rural county that his passion for music took root, hearing his grandmother and aunts play the piano, and sitting on the church pew.
"I grew up in a big music environment," he recalled. "I grew up in church with gospel music and that was a huge influence on me in the beginning. In my family you were encouraged to try an instrument. And it was piano. I talked my parents into getting me a guitar when I was nine."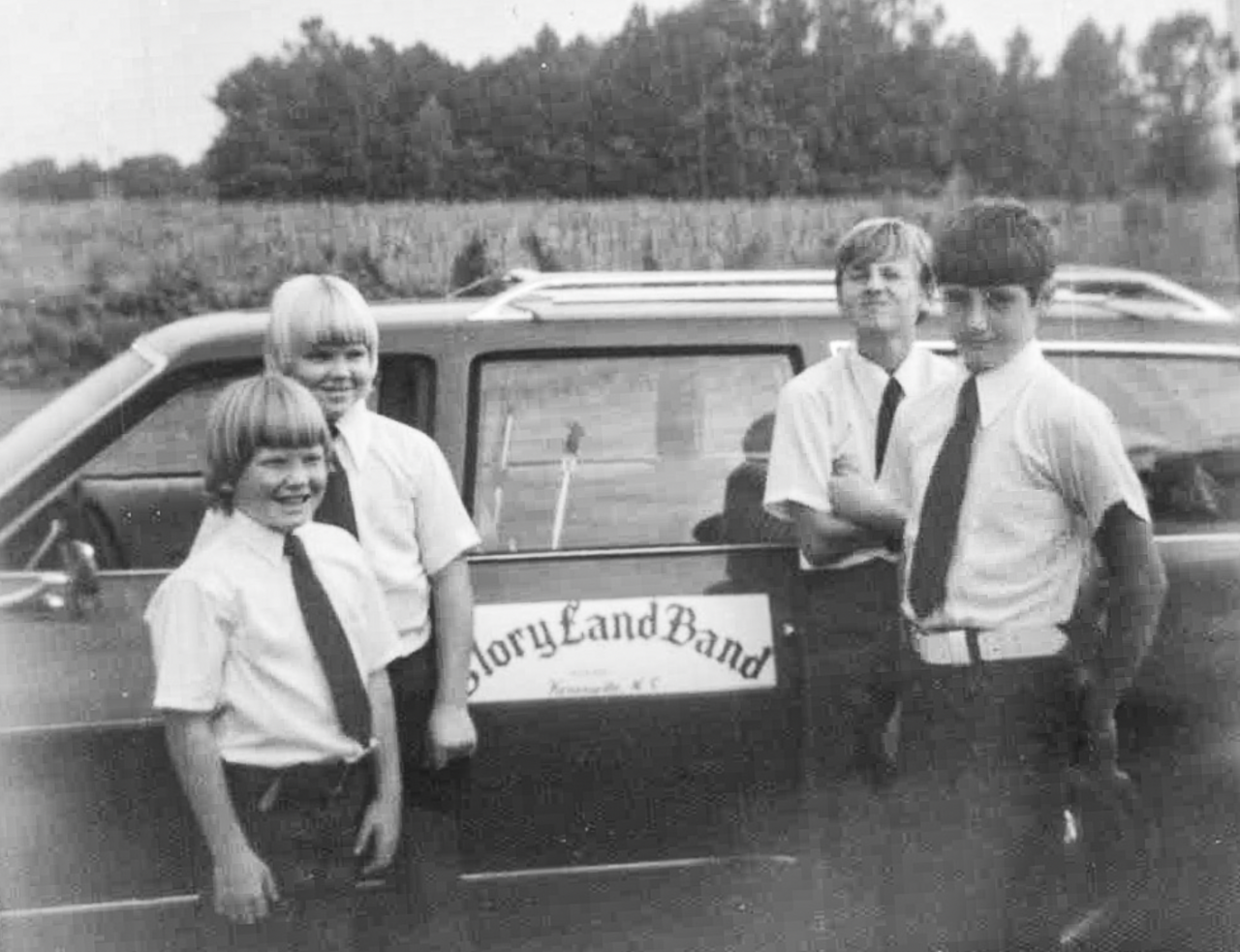 Then his father helped put together a group including Dunn and his brother, along with another set of brothers. They called themselves the Gloryland Band and the boys went around to different churches to play, dressed alike in burgundy plaid suits and big ties.
"The interesting thing was this was in the 70s," he said. "And you had to check with the church to see if you could bring a guitar in. Especially an electric guitar–or drums. You just didn't walk in with a set of drums. My dad would always check with the pastor to see what instruments we could bring in."
Dunn's family also had Saturday night jams in the living room.  Eventually the little gospel band broke up and, Dunn said, he didn't play much until he got to high school: "I ended up in a little rock and roll band in high school. We played the Beatles and AC/DC–we were called Blaze and we just thought we were going to set the world on fire."
Dunn credits several mentors for helping him progress with his music, and one of them was Dennis Aldridge. He said sometimes they'd practice seven days a week together. 
After Blaze he went to another rock % roll band with some people about 10 years older that helped him grow as a musician. 
"I learned a lot from those guys," he said." We played local rock and roll clubs. I learned a lot of harmonies, about running bands, PAs, and guitar work. I was going to make my money with this band. The day I registered for classes at Lenoir, I think the band busted up two weeks later. So I learned my first lesson: Don't depend on bands for money."
Dunn moved to Greenville in 1982 and has been here ever since. After graduating  high school, he did odd jobs for a while, until he was 21 and decided he'd better go to college: "I went to Lenoir first and then migrated up to Greenville. I had a girlfriend here who was going to East Carolina and we dated about 7 years. And my dad moved here. So I had a couple of things going on that pointed this way. Of course we broke up and my dad passed away about 30 years ago. But I stayed on, made a life here. Married another girl and been happy ever since."
About the time he came to Greenville, Dunn started listening to Ricky Skaggs and a lot of country music. 
"I was raised on country," he said. "My mom liked the Alabama stuff and Waylon. Rock and roll to me, about that time, started fading. It just wasn't there for me. I actually caught the country bug again. So when I moved to Greenville, I started playing with country bands up here. In the early 2000s I played in a lot of bar bands. I owe a lot of what I do to working with good musicians in those bands. I played guitar and was developing my solo skills. I worked with a guy named Raymond Rouse out of Kinston and he really helped my country side. He played a real nice style."
Then in the early 2000s, Dunn was building a house and would come out when working on it, plug in a drop cord, and turn the radio to a classic country station. But sometimes they would play bluegrass.
"I heard bluegrass growing up but I thought bluegrass was dead," he said. "When Flatt and Scruggs broke up, it was over. But then I started hearing this new bluegrass, something like Blue Highway and I said, 'Man!' and I started back listening to Ralph Stanley. I said "Ricky Skaggs is doing this country stuff that I really love but he's just redoing the Stanley Brothers stuff–he's just doing it with steel guitars. I said 'Wow! This is what I've been missing." 
All this while Dunn was playing his guitar, but when he went to his first bluegrass jam and saw 17 guitars (or so) and one mandolin, he thought perhaps he could pick up mandolin: "My wife gave me one for Christmas, I guess this was in 2002. Next thing I knew, I was in two or three different bluegrass bands. And I said this wasn't what I attempted to do with this stuff, but it's where it ended up."
Dunn has played in the country band Highway 58 and currently plays with the Old Grey Suits, a bluegrass band. He also is starting back with a group of friends who have played rock and roll for years who are calling themselves Graystone.
Dunn says he likes a lot of different kinds of music, acknowledging that both bluegrass and country music have gone through transitions. "Bluegrass music is changing," he said. "I like Larry Cordle's take on it:'We can't play the same 350 songs the rest of our life.'"
"A lot of traditional bluegrass has gone by the way," he added. "As more of these progressive type groups come in, it squeezes out some traditional stuff. That's what I worry about. Younger people want to hear younger stuff and not listen to Ralph Stanley all day.
"Blaine at Greenville Guitars said it best. He said, 'We need another movie,  like O Brother Where Art Thou. We had a whole rush with that. Have a good movie and watch the value of instruments go up. It was the same thing with country music and Urban Cowboy in the '80s and the line dancing went crazy. And Saturday Night Fever before that. It's amazing how Hollywood drives what happens through all entertainment."
With so much experience under his belt–or perhaps his mandolin strap–Dunn is full of advice for up-and-coming musicians. And perhaps the best is simple: "The real education comes from the people you play with. You learn so much from them."
• • • 
Published in the Daily Reflector July 22, 2023.