The Grass Cats were one of the most popular bluegrass bands to come out of North Carolina for an impressive 20-year run that spanned 1997-2017. Founded by mandolin picker and songwriter Russell Johnson, from Four Oaks, the Cats played RAF with several different lineups over the years. They disbanded in 2017 and Johnson has since gone on to become director of the Carolina Bluegrass Band at UNC-Chapel Hill. 
      Richard Thompson announced their break-up in Bluegrass Today.
      Johnson also maintains an active Facebook page for the Cats on which he posts unreleased tracks from their previous recording projects and shows.
♦♦♦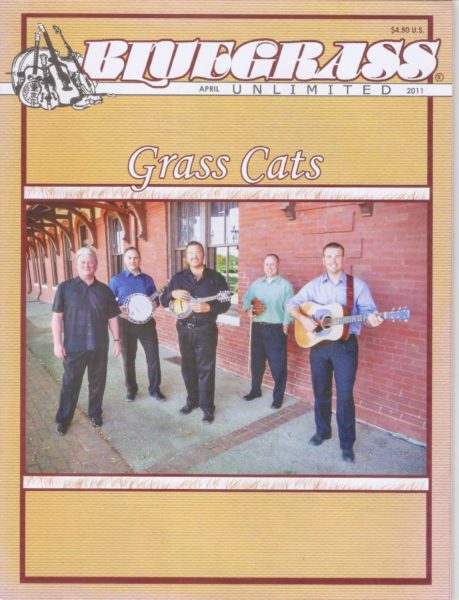 The Grass Cats feature in the April 2011 issue of Bluegrass Unlimited sketches in the band's history. Buy it.
♦♦♦
from the July 11, 2007 Fountain AfterDark
The Grass Cats' latest CD, Home to Carolina, gets the lead review in the July Bluegrass Unlimited magazine, considered by many to be the monthly "bible of bluegrass." The recording, their sixth, has been on Bluegrass Unlimited's Top 15 chart for 6 months. It currently is #4, down a notch since June.
Their review asks this pertinent question: "How does a band that tours so little get as much radio airplay as the top festival bands around?" and adds, "If you want to see the Grass Cats, you go to North Carolina. Judging by Home to Carolina, as well as their five previous albums, it's well worth the trip."
The Cats are playing regularly in the Raleigh area this summer, and they return to Fountain General Store on Saturday, November 17.
Among accolades bestowed upon Home to Carolina, the review cites "excellent engineering" by Jerry Brown and "two first-rate songwriters and singers in mandolinist Russell Johnson and guitar man Steven Martin."
Johnson is praised for his "ability to write new songs that sound classic," and Martin's four originals on this record "display that same wonderful quality."
High praise throughout the review, too, for the covers the band chooses: "No matter what their source, [they] sound like bluegrass." No easy matter when you're covering artists as diverse as the Who ("Let My Love Open the Door)," Robert Cray, and Tim McGraw.
Two of Johnson's originals on the album are still charting: "Pill or Potion" is number 6, up two notches in its eighth month, and the title track, up a notch to number 14 in its fifth month.
Artists whose singles are rated higher than "Pill or Potion": J.D. Crowe & the New South, Lonesome River Band, Doyle Lawson & Quicksilver, and the Grascals.
Johnson, by the way, also returns to RAF on August 3 with his revived New Vintage Bluegrass Band, a supplemental project to his work with the Cats. He'll be teaming in New Vintage with a couple of other Fountain favorites, Alice Zincone and Rick Lafleur, and John Stickley on guitar.
• • • 
A Grass Cats discography
By Request. Buy it 
The Blues Are Back in Town. 2002. Buy it. 
Cattin' Around. But it. 
Desperate Times. 2004. Buy it. 
Home to Carolina. Buy it. 
The Mountains, My Baby, and Me. 2012.
Old School Road. 2015.