That's Entertainment!  Rudy Alexander Blazed a Trail of Performances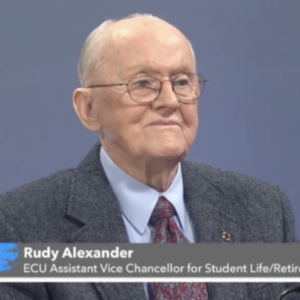 S. Rudolph Alexander is a name synonymous with local culture. That's due to the performing arts series bearing his name that's considered a jewel of East Carolina University. "Rudy," as he is known, was responsible for bringing a veritable who's-who list of entertainment to the ECU campus for all of Greenville and the region to enjoy between 1962 and 1995. Performers like Flip Wilson, the Beach Boys, and Linda Ronstadt. Household names like Burl Ives, Vincent Price, and Tony Bennett. Not only for the performing arts series, but Alexander handled the booking and contracts for a broader scope of popular entertainment.
But the story behind the man and the series may be lesser known to the public than the entertainment lineups were. Rudy Alexander shares some of his background and behind-the-scenes stories in a segment airing at noon, Nov 28 on WITN-TV as a part of the NC Trailblazers series.
Born in Wayne County, Alexander attended Goldsboro High School close to the same time that Andy Griffith was there. Alexander was a musician himself, playing french horn in high school band, and in his senior year he got the chance to direct the band when a circus was in town. He worked at J.C. Penney's during high school and thereafter, in the boy's department. He also had a paper route that involved riding his bicycle for miles in the country and he made $12 a day. "I thought I was wealthy," he said. 
He saved his money, so by the time he went to college, about 1950, he had enough to cover his first year of tuition and fees. He chose to attend East Carolina Teacher's College (soon to be rebranded East Carolina College) because a foreign language wasn't required…and Greenville had a J.C. Penney's where he could work. He went to school year round and earned bachelor's (English & social studies) and master's (theatre) degrees in less than 4 years.
Next on his agenda was Uncle Sam. After receiving educational deferments, he knew it was best to go ahead and get his tour of duty behind him. He was sent to Signal School (radio communications) and then on to Germany.
In the Trailblazers interview, Alexander shares stories covering his stint working with Boy Scouts of America and then his acceptance of the position at ECU. And the rest is performance history.
He also opens up about booking performers, like Flip Wilson, engaged for $700. The comedian's star was rising so fast, he could command $7000 by the next year, and very soon a television contract. "He is the only performer that I ever wanted to quit because I was having stomach pains from laughing so hard," Alexander said.
Alexander had a knack for recognizing emerging talent. He booked the Canadian Brass for $3,000 and when he brought them back a decade later, the fee was $30,000.
He describes his formula for booking a series of 10 acts. It would include 4 internationally acclaimed artists, 3 well known artists on the rise, and 3 new attractions. 
Wright Auditorium was also renovated under Alexander's watch. "It had a flat floor–they played basketball in there," Alexander remembered. "I requested they hire an acoustical expert. He asked 'What is the principle use of this hall?' I said, 'Music,' and he tuned the hall so the acoustics are perfect for music."
An article in the East Carolinian on July 29, 1965 promoting the appearance of acclaimed pianist Peter Nero included,"Wright Auditorium will be air conditioned in time for the performance."
Booking talent and making sure performers showed up on time was not always an easy task. When a performer said he was "flying in," he knew there was trouble. They'd end up in Greenville, SC, because there was no local airport at the time.
Ike and Tina Turner performed in Greenville more than once. A 1975 promo for their appearance at ECU reads, "The King of Blues and the Queen of Acid (from the movie Tommy) will blow ECU's Homecoming mind Friday, Oct 17 in Minges Coliseum."
But on one of their scheduled dates, they were a no-show. The terms of their contract required them to pay back expenses incurred, but no check was forthcoming. So when Alexander was in New York, he paid a visit to the musician's union. A check soon arrived in the mail.
After performances, Alexander would often take featured artists, along with a few students, out to dinner. Tune into the Trailblazers segment on Nov. 28 to hear a story involving Van Cliburn (who played for every U.S. president from Harry Truman to Barack Obama) and a little dinner at the Beef Barn. And a story involving violinist Isaac Stern and a small boy's swinging legs on the front row of the audience that drove him to distraction.
When Alexander retired from ECU after 33 years of service in 1995, the performing arts series was named in his honor. "I fell in love with the job from the beginning," he said. "I thought the world of every chancellor we ever had."
He advised his children, "Get a good education, and get a job you love going to every Monday morning."  Like he did..
At 91, the show is still going on for Alexander, who lives an active lifestyle and writes a monthly travelogue.
The North Ccarolina Trailblazers series hosted by Mike Weeks explores how visionary leaders impacted Eastern North Carolina and beyond.
• • • 
Originally published in the Daily Reflector November 20, 2021.