A Lifelong Learner with Lots of Pluck: Harpist Kathy Sprau
Poised to play, Kathy Sprau gazes through her 87-pound pedal harp and views the world through 47 linear slices, segmented by strings that come to life beneath her fingertips. And perhaps she has as many adjectives as strings to describe how playing the harp makes her feel.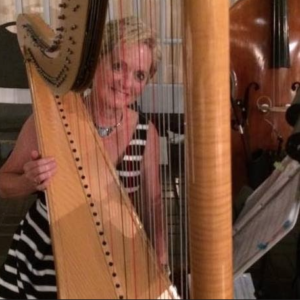 It's "thrilling, soothing, stress-reducing, magical, ethereal, a blessing, and simply…fun," she shares for starters.
"Dazzling! That's what it is to play a glissando on the harp!" Sprau's very choice of words offers a sample of her enthusiasm. A glissando, for those of us who've had less angelic pursuits and don't know, is played by rapidly sliding over a succession of adjacent strings.
Playing a harp with proficiency appears daunting. How does one not get lost in all those strings? But Sprau's personal journey with the instrument offers a glimmer of hope for us all. She started taking harp lessons when she was 43.
Her husband, Dan, came home from work one day and out of the blue announced that he had rented a harp and lined up a teacher. He took lessons for a year, and the next year their nine year old daughter, Abby, joined him. During the third year, Kathy "joined the harp brigade," as she puts it. A few years later their harp playing developed into a business called Have a Harp. When the children were younger, at times all four family members, including their son, Zach, on piano or double bass, joined in on gigs.
Prior to the harp she played clarinet and oboe through college and high school marching bands, concert bands, and orchestra. Growing up, her father played tenor saxophone in church and occasionally he had her play special pieces along with him on clarinet. 
"Later in life, my dad played five times a week at different locations in his retirement village," Kathy shares about her father's musical influence. "Before he passed away at age ninety, he played his sax up until the last six months of his life."
The sheer physicality of her Concert Grand Camac Athena pedal harp with an extended soundboard is impressive. Kathy jokes that it takes "two men and a boy to move it." But actually she has a harp mobile trolley to help move the instrument up and down stairs. She also has a smaller 37-string troubadour lever harp which she uses to rent to harp students.
Finding the harp was an adventure in and of itself. She and her husband went to the Carmac factory outside of Versailles, France. "The owner, not speaking any English, pulled out 17 harps for us to try!" she remembers.
After choosing one with a light natural finish, it was shipped to the Virginia Harp Center and then delivered to their home. "Once you play a pedal harp, there's no going back," she explains. "It's so much more versatile simply because, to change keys, you raise or lower one or more of the seven pedals. With a lever harp, levers have to be raised or lowered separately for each string."
She adds, "In case anyone is wondering how we harpists know where we are on all those strings…[ indeed we were] the red strings are Cs and the black strings are Fs."
"Eclectic" is the word Sprau uses to describe the kinds of music she plays. She purposefully plays a variety of genres because she wants to play music to please people, but also what she likes and enjoys herself. "Many people expect harp music to be all classical or 'airy-fairy,'" she explains. "You can play almost anything on the harp!"
She manages to play some light classical, jazz, Irish, pops, Broadway, sacred, and Christmas music. "Sometimes I play the piece 'Stairway to Heaven,' which often surprises people."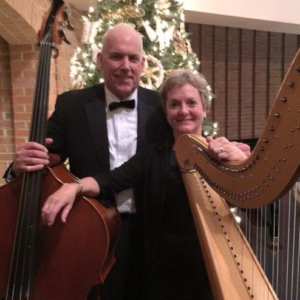 Kathy plays for weddings and special events, sometimes with her husband joining her on double bass. "Fun fact," she offers, "in our experience, over 95% of the brides want to have their bridesmaids walk down the aisle to "Pachelbel's Canon in D"… or even themselves!"
Sprau also teaches harp lessons, currently with students ranging in age from 10 to 44 to 72. These days lessons are often delivered virtually via the Internet. The upside, she says, is that she can see their fingers on the strings even better that way.
Describing how COVID-19 has affected her, Kathy points to the weddings and special events that have been canceled since March: "One notable way I have stayed musically engaged is by playing and practicing everyday, and digging up pieces I had only half learned in the past. One piece I am resurrecting is the famous Harp Cadenza from 'Waltz of the Flowers' in 'The Nutcracker'."
In addition to harp performance and teaching, Sprau has enjoyed an "exceedingly entertaining career" as a professional and motivational speaker in leadership and professional development. She authored a book about reframing what we say to others in the positive mode … for more positive outcomes. Her book is entitled It Is All About Me … I Can Make A Positive Difference!!
As a self-proclaimed life-long learner, Kathy also set a goal for herself to learn as much Italian as possible, and to stay fit with fast walking, and exercise videos.
• • •
originally published in the Daily Reflector September 13, 2020