Saxophonist Michael Stephenson Performs Globally and Impacts Locally
What is one of the greatest compliments a musician can hope to hear in a lifetime? To be given the opportunity to play in Carnegie Hall? To be invited to perform at the White House? Michael Stephenson has experienced both of these, and more. But when he remembers compliments, it is being told he looked like he was having a great time on stage. "When someone says that to you, you know that the message of love for making music has come through to the audience."
Local saxophonist Michael Stephenson has a resume that includes being the Coordinator of Music and Drama at Pitt Community College and co-owner of The Music Academy of Eastern Carolina. He also has been a member of  the New Century Saxophone Quartet for over thirty years.
As Coordinator of Music and Drama at PCC, he manages the Associate in Fine Arts music program, directs PCC's symphony orchestra and jazz band, creates programming, and much more: "I enjoy working as a grassroots, community musician. I feel like the music program at PCC has made a difference in the community by using music as a way of building bridges between different groups of people."
Michael and his wife, Cheryl, a gifted musician in her own right, started the Music Academy of Eastern Carolina in 1997.
It is located at 811 S Evans Street in Greenville. "It was our dream to bring a nonprofit community music school to Greenville," he explains. The Music Academy offers lessons for all instruments, music activities for children, rehearsal space for several community music ensembles, and music therapy services. Lessons have continued through the pandemic on-line with the use of platforms like Zoom, Google Duo, and Facetime.
Michael has been the soprano saxophonist for New Century Saxophone Quartet (NCSQ) since 1988. The group won the Concert Artist Guild Competition in New York in 1992, and since that time, NCSQ has toured the world. They've performed on some of the world's most prestigious stages, including Carnegie Hall, Ambassador Auditorium, Concertgebouw in Amsterdam, the Hong Kong Performing Arts Center, and the White House. They've recorded 8 CDs.
One memorable event that stands out for him is performing for President Clinton in the White House: "I'll never forget sitting with NCSQ in the East Room of the White House and seeing President Clinton walk down that iconic hallway. He pulled up a chair right next to me and asked, 'What have you got for me?' During the entire performance he was looking over my shoulder and I could sense that he was reading my music the entire time. We later discussed 'geeky' saxophone talk and if he had time was going to take us downstairs to see his practice room, but unfortunately, he was called away on official business."
When NCSQ won the Concert Artist Guild Competition, one of the prizes was a Carnegie Hall performance. They were the first saxophone quartet to ever win first prize in this competition, and being a group from North Carolina was a first as well. "On the day of our concert, we were rehearsing in the hall, but we kept hearing a trumpet coming out of the stairwell. During one of our breaks, we went to investigate and discovered that it was Doc Severinsen warming up for his concert with the Cincinnati Pops later that week. We talked for a little bit and he apologized for disturbing us."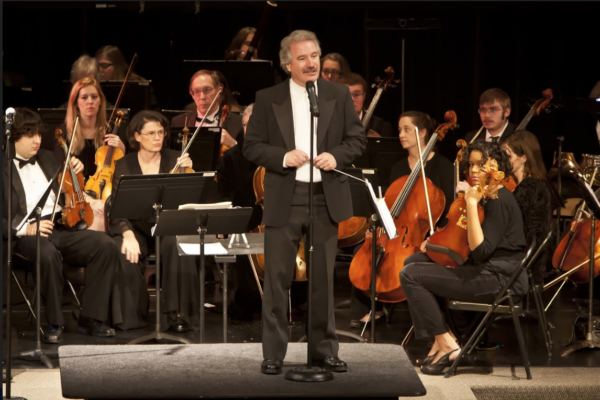 Some performances are painted in his memory. Soon after releasing a CD of Bach's "Art of the Fugue," NCSQ was asked to play a concert in Carmel, California, sponsored by a local art enthusiast. They played the "Art of the Fugue" on the beach at sunset while a local artist painted the experience on canvas. 
Michael's earliest music memories begin in Henderson, NC, where he grew up. He participated in youth music programs in several of the churches in town, and his love for community music making was shaped by being involved in musicals such as Oliver and Mame, sponsored by the recreation department. Participating in the Durham Boys Choir (now the North Carolina Boys and Girls Choir) gave him a strong musical foundation. Later, he joined his middle school band and the saxophone became his new passion. "I started going to band summer music camps and realized at a very young age that I wanted to make music my career."
For Michael and his wife, Cheryl, music is a family affair. Cheryl is a music therapist and also plays the oboe with several ensembles throughout North Carolina. Cheryl and Michael have performed together for over 30 years for church services, civic groups, and in concert settings. "It's wonderful making music with someone that you love," Michael shares.
Michael and Cheryl expanded their musical family in 2005 when they adopted Milena and Natasha from Russia. 
While the saxophone, and in particular the soprano saxophone, is the instrument he's most comfortable performing on, Michael also enjoys playing flute, clarinet, and keyboard. "I've played in many musicals over my career, and typically woodwind performers need to perform on several instruments in the same show. I've had to play as many as 8 instruments as a member of the pit for New Bern Civic Theater for Lin-Manuel Miranda's first sho In the Heights.  I really enjoy the challenge of switching instruments."
What has it been like for such an ordinarily busy musician during the isolating times of a pandemic? "The worst effect that the pandemic has created is separation from musicians that I love," Michael says. "It is difficult to explain what it's like to make music with others for just the love of making music. It seems like a part of me is just on hold for the time being. I have spent the majority of my life preparing for a performance or performances of some kind. I can't express what a hole this has created in my daily life."
He has dealt with this loss by participating in Facebook live concerts, uploading videos to Youtube, learning new repertoire and technology, performing in virtual church services, and making videos with the New Century Saxophone Quartet.
The pandemic will more than likely change the performing arts moving into the future, Michael believes. "The performance of live music will be one of the last activities that can safely be allowed to return to some kind of 'normal'. When it is safe to return, I believe that music will have the opportunity to make the performing experience even better. Synchronous rehearsals and concerts will be here sooner than later. We will be able to rehearse and perform with other musicians that are not physically in the room. Imagine the Emerald City Big Band giving a concert and having someone like Branford Marsalis taking a solo halfway across the world. We are not far from this kind of reality."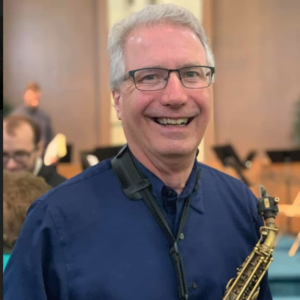 Michael also believes the pandemic has also taught some valuable lessons about the career of music. "It is still very important to practice and perfect an instrument (or instruments), it's still very important to make and keep contacts, but I think that technology has taken more of a priority for success."  Experience with audio equipment and learning how to make and share music from home is something that musicians will need to deal with more and has suddenly become very important for the music business. 
Michael's professional, international performance experience and work with community groups has exposed him to a wide range on the musical spectrum, but he has a balanced perspective. "I feel very fortunate that I feel comfortable performing in one of the world's best chamber music groups and also equally just as comfortable working with grassroots music organizations," Michael shares. "It took me a long time to realize that each contributed to each other, making me a better musician. Standing in front of a group like the PCC Symphony Orchestra teaches me what is truly important about making music: sharing love with our neighbors and our community."
• • •
originally published in the Daily Reflector July 19, 2020
Date(s) performed at RAF