Juliano Aniceto: The Shortest Route from Rio de Janeiro to Greenville Is via Music
What do a Brazilian who grew up in urban poverty, an East Carolina University graduate, and a conductor of the Baltimore Symphony Orchestra have in common? Quite a bit: All three describe Juliano Aniceto. His is a rags to riches story, where wealth is measured not in bank, but in musical notes.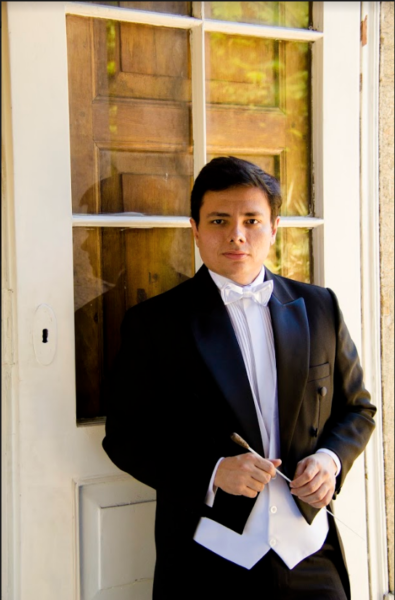 It all started when Aniceto was just seven and his school professor brought a recorder to class one day. "I was amazed by the sound and my mom bought me one. I played the recorder for hours a day, just having fun," he remembers.
His family lived in the Brazilian favelas (communities for families with low income that were often associated with high crime rates). A music professor started developing a social program in his community to offer musical education to children who ordinarily would never have had access to it. "When the professor asked me about an instrument, I went directly for the flute," he says.  "I have no regrets: it is an instrument that I love!
He started with lessons two to three times a week, playing flute and having music theory classes. The classes were held in a school that was located in a dangerous area: "I remember clearly that my mom took me to every class and waited for the two hours of my class and lesson, sitting on the floor, in order to ensure my safety. "
Even though Aniceto came from a nonmusical family, he remembers being fascinated by the sound of an orchestra even as a child. "I remember tuning to Brazilian public radio that was playing classical music and sitting in front of my house to listen," he says. Some neighbors, not used to hearing that kind of music in their neighborhood said, "Boy! What in the world are you listening to?" His answer was simple: "I am listening to music!"
Throughout his teenage years Aniceto played exclusively folk and popular Brazlian music. "My first contact with conducting was when I saw an orchestra for the first time," he says. "I was amazed by how the conductor was able to connect with the musicians, how he was able to shape the sound through gestures. I decided to be a conductor at that very moment." 
Shortly after that concert, he started sending messages to classical musicians asking how he could become a conductor. Their answer was always the same: "You need to be a good musician in order to become a good conductor."  Following their advice, he kept studying flute until he was performing as principal flute in an orchestra and as soloist. "It definitely helped me to shape the way I understand conducting," he says.
In 2012, when Aniceto was an undergraduate student at the Rio de Janeiro Federal University, East Carolina University developed a partnership so that ECU professors went to Brazil to give masterclasses. Through this arrangement he met Dr. Jorge Richter (conductor) and Dr. Christine Gustafson (flute) and he took a masterclass with both of them. "At that point, I saw how great and serious these professors were and later, when I was planning on developing my education in another country, their names came directly to my mind."  After an audition he was accepted into the master's degree program at ECU. 
"I consider myself lucky to have had my first contact with American culture through eastern North Carolina," he says. "Definitely the southern hospitality is something that will always be close to my heart." ECU flute professor Christine Gustafson had experience abroad, having studied in China, Vienna and other regions."She was able to provide me the best transition someone may ever have, giving me advice and correcting my English on some occasions." 
Aniceto credits a great part of his adaptation to the American culture to be due to his work as graduate assistant music director of the ECU Opera Theater, under the direction of Dr. Daniel Shirley. "I felt extremely at home and it was one of the best moments I have ever had at ECU."
When the opportunity to conduct the Baltimore Symphony Orchestra (BSO)  was presented to him, Aniceto said he could not contain his excitement. "We are in the middle of a pandemic and these opportunities, even in normal times, are rare! I am so grateful for having the chance of conducting and sharing Brazilian classical music."
The program had to be adjusted for the reality of the times: the orchestration was kept small and the number of players on the stage was limited. 
"As a young conductor, you always dream about the day you are going to step on the podium of an orchestra like BSO."
He was so excited that he had a hard time sleeping the night before. "The response of the musicians since the first rehearsal was amazing. They are one of the best orchestras in the country for many reasons, and I could feel their musicality and generosity through the whole process, from the first rehearsal, to the end of the last chord."
Aniceto is currently studying towards his doctorate at the Peabody Institute of Johns Hopkins University. He is having the "musical time of his life" under the mentorship of Marin Alsop, acclaimed conductor who was just named "2021 Classical Woman of the Year" by American Public Media's "Performance Today." He intends to develop an international career as a conductor, but also to create a social program to support children in pursuing their musical dreams. 
"Music is universal, it is international, and it should always be." he adds. "We are talking about inclusion, representation and, for me, this is a key for the future of classical music."
• • • 
originally published in the Daily Reflector April 4, 2021