Michael Kinzie: 13 Things You Didn't Know about "13"
With his long white hair blowing, shiny black fiddle wedged under a cottony beard, and bow poised like a wand ready to cast his spell, Michael Kinzie is larger-than-life. Like Merlin or Father Time infused with otherworldly musicianship. Is he a violinist who plays tuba? Or a tuba player who moonlights on saxophone and fiddle? Does he play classical, honky-tonk country rock, bluegrass, or folk? The answer is: Yes. 
Known locally as the fiddle player from Super Grit Cowboy Band and numerically as "13," the multi-instrumentalist has lived a life that is more fascinating than fiction. And no one can tell his story better than he can.
More than a Number
Where did the nickname "13" come from? I was almost afraid to ask, and as it happens, rightfully so. He said, "When I first joined Super Grit, they had a full calendar and I had to hit the ground running. I slept on the couch at Stonewall's trailer in Hood Swamp for a week while they worked me into the show. As I lay sleeping on the couch in all my hippie glory, Stonewall asked his dad what nickname they should give me since everyone else in the band had one. Arlon reportedly took one look at me and said, 'W-w-w-w-w we'll have to give him a number, he's too ugly to give a name.' They conjured up the number 13 and that is the real story, and it stuck like glue for the past 40 some odd years. The other versions are figments of peoples' imaginations. Since I play a number of instruments, people theorized that 13 must have come from the number of instruments I play. It was flattering and I did nothing to dispel that theory. The other theory was rated XXX. Come to think of it, I did nothing to dispel that theory either."
A Musical Legacy
Kinzie's foray into music was practically predestined, as he explains "there are professional musicians as far as the eye can see on both sides of my family." His father was a missionary in India and he started Kinzie on a tenth size violin that he bought at a bazaar in the Himalayas. 
"I was introduced to the violin when I was 5," he says, "and it was just a fun thing to do, but when I got to be 7, I actually had to practice an hour a day. I hated it."
The family moved to the states when Kinzie was 7 or 8, ultimately settling in Mathias, West Virginia, where his father was pastor of Church of the Brethren. 
"To make ends meet, he also was the band director at Mathias High School," Kinzie says. "If my dad didn't have anyone to play an instrument, he would pull me out of class at the elementary school to play the bass drum or cymbals or whatever. When he lost his baritone horn player, I inherited the position."
When his father passed, Kinzie's mother moved the family to Bridgewater, Virginia. There he was told he could be in the band if he played that tuba," Kinzie remembers. "The violin did not come natural to me, but the tuba did. My mother insisted that I keep playing violin and sent me to my dad's old violin teacher when he was in college. I went to the lessons to placate her, but at that point, my interest in playing violin was just about zero. I was into playing the tuba. I felt like I had finally found my instrument."
Music as a Career Path
Kinzie doesn't remember the moment he decided that he wanted to make music for a living. He was drawn into it gradually: "When I was 15, Bridgewater College would hire me to play violin in their annual production of the Messiah.  I also played drums for a 5-piece dance combo. I had a paper route and I was the janitor at Turner Ashby High School not to mention I worked as a handyman. Minimum wage was fifty cents an hour at the time. The five dollars I made playing violin for a gig and the two dollars I made playing drums was pretty good money to me at the time."
Two scholarship offers to East Carolina College (now ECU) later, Kinzie was double-majoring in tuba and violin and landed an orchestra pit job for $85 a week. He was officially a professional musician.
A Song About the Devil and a Fiddle
Before the devil went down to Georgia, he was fiddling in Carolina.
"I was fooling around with my fiddle when the full moon rose over the horizon and it was a blood red," he says. "The fiddle solo came in a burst of inspiration. I called Woody [Woody Thurman, lead singer for Singletree, the band Kinzie was in at the time] and gave him some mental images I had about the devil playing the fiddle and the legendary violinist Nicoli Paganini. The next morning I got a call from Woody and he started with the rap at the beginning of the song."
The song, "Love for Strife" was born and became an important part of Singletree's repertoire, and later Super Grit's. 
Kinzie describes its performance. The song would start with the recitation and slow spooky chords: "Smoke along the floor illuminated by yellow light spilled off the stage. When I said the word 'fire,' two columns of fire sprang 15 feet beside me. I wore a black cape with red lining."
Their road manager, Captain Larry Spence, set up the pyrotechnics. He would go on to form his own production company that has produced Super Bowl halftime shows for the past 15 or more years.
"When Charlie Daniels came out with Devil went down to Georgia, I was inundated with calls telling me that Charlie Daniels had ripped off my song and that I should sue him because the songs were so much alike. At the time, I did not realize that Charlie had seen us play 'Love for Strife ' when we were warming up the Marshall Tucker Band at Duke University. Years later, Super Grit went on tour briefly with Charlie Daniels. I was playing an old piano that was beat all to hell.  Charlie Daniels got word of it and had the piano tech hired to tune their piano to fix everything on my piano. I wondered why he did such a thing. Charlie Daniels didn't know me from Adam.  Or so I thought. Decades later I found out that he had, in fact, seen us play 'Love for Strife.'  I think he was just saying 'Thank you' for the idea and 'Thank you' for not suing.  That's my story and I'm sticking to it. "
The Hood Swamp Symphony Ball 
In Wright Auditorium, 1979, a clean cut, tuxedoed Bob Haus (the conductor of the ECU Symphony) and Michael Kinzie, with as much hair as musical talent, stood together before an enthusiastic audience, introducing The Hood Swamp Symphony Ball.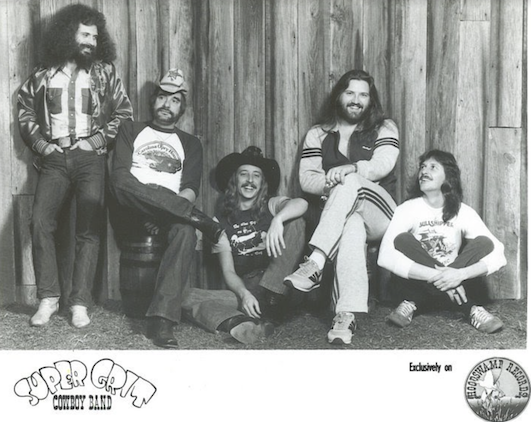 "Sometimes it is hard to pin down the genesis of a particular work, but this one I remember," Kinzie says. "After I came back from Vietnam there were two things I really wanted: not to live with 50 other guys and to have a 50 gallon aquarium.  I got an apartment down on 1st Street and I found a used aquarium to put in it.  I found them to be incredibly calming and I loved the serenity of watching the fish swim around as I played my favorite music on the stereo. On this one particular evening, I was watching the fish swim around as I listened to Poco and enjoying my favorite herbal remedy when my mind began to contemplate the schizophrenic nature of my career at the time.  I was the only person I knew that had a foot in both classical and country music.  I considered what a hoot it would be to combine the two by arranging material for an orchestra to accompany the band. To my knowledge, it had never been done."
Kinzie felt confident he could write the scores and after floating the idea by Bob Haus, the project was set in motion. Kinzie was playing with Singletree when he first got the idea.  
"After I joined Super Grit, I felt like I had the band to pull it off," he says. After the first rehearsal, he thought they were going to have to cancel the concert.
"We couldn't keep the band and the orchestra together. The band took its beat off the drummer and the orchestra took its beat off the conductor." For the second rehearsal he put monitors around the back and sides of the orchestra.
After a number of obstacles, the night of the concert finally arrived. "The crowd went absolutely berserk. The roar was deafening and seemed to last forever," Kinzie remembers.
The band performed The Hood Swamp Symphony Ball with the North Carolina Symphony numerous times, the Alabama Symphony, the Richmond Symphony, the Greensboro Symphony, and a number of others, selling out venues.  "Ultimately, it led to me orchestrating two shows for Mike Cross which he performed all over the United States and for Mike Reid who wrote 'Stranger in my House,' for Ronnie Milsap. At one point three musical entities were performing my scores.  I was making more money as an arranger than I was as a performer."
A Well-Rounded Musician
Before he played with Super Grit, Kinzie played five years in a band called Singletree. He worked in a group called  The Magic Pipers out of Raleigh for about ten years, playing saxophone. He performed with a female Irish singer, Jennifer Licko, for a number of years, and with a Hank Williams Jr. tribute band. Kinzie also plays with the Pitt Community College Symphony and performs in a duo with Victor Hudson.
If you haven't yet discovered at least 13 things you didn't know about Michael Kinzie, read his unabridged interview, with more colorful stories, including an encounter with ZZ Top and how a violin helped him survive the Vietnam war.
Look for Kinzie and Victor Hudson performing at Backwater Jack's in Washington.
• • • 
Originally published in the Daily Reflector October 23, 2021.