The Low Tide String Band: Friends First, Musicians Second 
Meteorologically speaking, the lowest tides take place when the sun and moon are directly aligned with respect to earth. Musically, that must mean that local musicians Karen Modlin, Brad Brechtelsbauer, and Sam Weatherly are the sun, moon, and earth of the Low Tide String Band, harmoniously aligned as they are.  
I guess that makes them sound like country cousins to the soulful band Earth, Wind, and Fire. If so, I'd sure love to hear them play "Boogie Wonderland" bluegrass style, featuring an old time banjo and upright bass.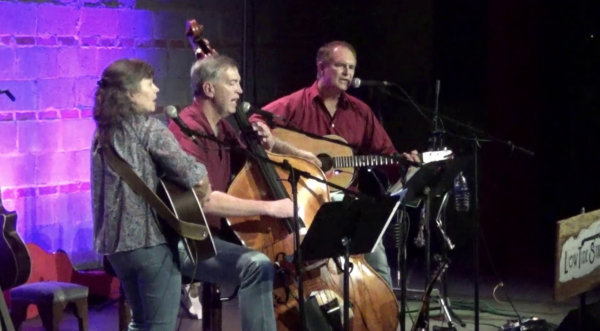 To hear them tell it, their three part harmony is not just the vocal and instrumental variety, but they recognize in each other a kindred spirit. "We are friends first and musicians second, and we really enjoy spending time together and playing together," says Brechtelsbauer.
An ENT doctor in Greenville for the last 22 yrs, Brad Brechtelsbauer began playing bass with insurance agent and guitarist Sam Weatherly in 2011 as part of the St. James Jammers. Karen Modlin, a nurse at Vidant and old-time banjo player (and Green Grass Clogger), joined the group in 2015 when asked to play with them at some open mics.  
"Luckily we were never booed off stage and it was a good learning process for us," Weatherly explaines
Brechtelsbauer remembers the support from the local music community and "Sam's courage to start playing at open mics."  
Modlin said that their "first real gig" was in September of 2015 at the Paramount Theatre in Farmville for the Arts Council. 
"That first gig in Farmville was a big success for us. We teamed up with David and Sylvia Bjorkman and they played a set and accompanied us on a number of songs. Sylvia's guitar playing and David's violin really added to the performance," Weatherly remembers.
They describe their style of music as "wide and varied," but are mostly known for songs that fall into the categories of Americana, folk, bluegrass, and country.  
"We also do some rock and roll, even though we usually tend to put a bluegrass or folksy spin on the tunes," Modlin says. "We have found that we enjoy harmony singing and work hard on our harmony vocals."
Brechtelsbauer's earliest musical memories are of his father playing ragtime and jazz on the piano. From Pinehurst, he grew up playing piano and only when joining the jammers did he start learning a string instrument. "In the last few years, I have been playing mandolin and now learning guitar," he says. "I have had wonderful experiences playing music with each of my children."
Dancing with the Green Grass Cloggers exposed Modlin to a lot of musicians, but she grew up around music, too. "My dad played harmonica by ear; if he could hum it, he could play it, and he played for the family around campfires and at home my whole childhood." She started out playing old-time banjo, adding in guitar and stand-up bass, performing at music festivals and with her husband, Dennis, who passed away in 2014. "I've always sung, mostly harmony, in church when I was young, and with Dennis my adult life," she says. "Sam and Brad are credited with encouraging me to sing some lead since then, which I find I really enjoy."
Weatherly describes growing up "an Air Force brat," and his dad moved the family to New Bern when he retired. Weatherly spent the majority of his adult life as an industrial engineer in the textile industry. When the textile industry declined, he became an insurance agent and currently owns his own agency: "I started playing guitar seriously when I joined the jammers group about 10 years ago. At that time I knew a few chords, had decent rhythm, but had never sang or performed with a group. It is hard to believe that it has been ten years since this all began for me." Currently he plays guitar and sings, but is also learning to play the bass.
"The L&N Don't Stop Here Anymore," made famous by Johnny Cash, is one of Modlin's favorite songs to perform because it was the first song the group sang with three part harmony and they received positive audience response.
Weatherly describes a favorite, "I've Just Seen a Face," as a "cool take on a Beatles song" but says he really likes a lot of the traditional music.
Brechtelsbauer names "I'm on Fire," "Don't Cross the River" and "Funnel of Love" as his go-tos, because of how much fun it was to create their own arrangements.
When asked how the pandemic has affected the band, Brechtelsbauer quips, "Many of our songs have gone viral." But they've also played front porches and garages, with neighbors walking or driving over in golf carts to sit on the lawn and enjoy from a distance.
To get a taste of the Low Tide String Band's music, check out a recording captured at the Whirligig by WNCT-TV 9, featuring an original song by Weatherly, "The Rain, The Summer, and You." It is available on Youtube. The band is also on Facebook.
• • • 
originally published in the Daily Reflector October 25, 2020