Band leader Martin Terry goes from fright to fulfillment
Martin Terry is equally comfortable performing on a large outdoor festival stage, in a noisy honky-tonk, or on one side of a living room for a birthday party. But what a birthday party it would be–the sort that gets things stirred up with "Sweet Home Alabama" and culminates with enthusiastic guests shouting "Proud Mary!"
"I have been singing my entire life," says Terry, whose Martin Terry Band has an enthusiastic following around Greenville. "All the way back to when I first started talking, I think I was always singing. However, growing up and into high school I had major stage fright." He didn't start performing live until his first year in college.
Terry's first live show was an open mic night at the Quarry in downtown Greenville: "All of my friends showed up and packed the place. I haven't stopped performing since."
Raised in Ahoskie, he's stayed close to his roots. "I attended Pitt Community College and lived in Greenville for three years, then moved to Kitty Hawk where I lived for about five years, then moved back to Ahoskie recently," he says.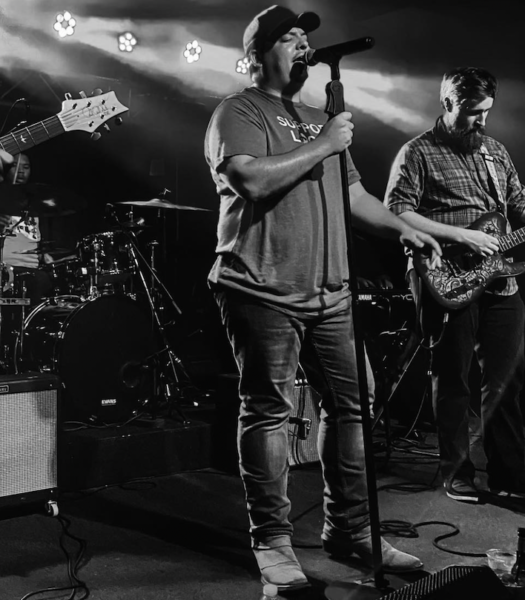 "I've been surrounded by music my entire life. All of my family are big fans of music," Terry says. "My mother especially, is a huge music person and listens to a variety of music and always has. She was a big part of my musical journey as she can also sing. I think I learned a lot about music and learned to love music from her." Gravitating to a variety of musical styles, from Journey and Aerosmith to George Strait and Travis Tritt; from Sara Evans and Whitney Houston to Luther Vandross and Chris Stapleton, he summarizes his tastes by saying. "You name it, I love it,"
During performances, Terry focuses on vocals and "lets the band handle the instruments," even though he's been playing acoustic guitar since he was thirteen. "I write all of my own songs on acoustic guitar."
Terry performs most often with his full 6-piece band now, but also does some acoustic shows, including just his vocals and one guitarist.
His current band members include Sam Gray, lead electric and acoustic guitar; Andrew Hauser, lead electric guitar; James Pucket, bass guitar; Benaiah Urquhart, keyboard; and Joshua Askew, drums. "I am so proud of my band and so lucky to have all of them throughout this journey," Terry said.
"Not a Drill," described as country/rock, is Terry's first EP. He wrote or co- wrote all the songs with his fiance. "I started releasing singles from this project in 2018 and have just now released the project in its entirety."
"Most of these songs are from a collection that I have written throughout my teenage years and early twenties," he says. "They are all relationship-based songs. Some are sad songs about heartbreak and some are fun songs about falling in love."
Terry holds down a day job in addition to playing music, working in a corporate office for a medical transport company. "It is the perfect job to be able to dedicate my weekends and weeknights to music," he says. "Our music schedule is very busy, so between work and music, I don't really have any days off, but I love being busy so it works."
The past four years have been active for the Martin Terry band, and Terry considers himself fortunate for the many positive experiences.: "We love playing for large crowds like we have at the Morehead City Seafood Festival and Seymour Johnson Air Force Base, and even love playing for small intimate crowds like we do in our acoustic shows. One of our favorite places to play is the Buccaneer Music Hall in Greenville. We play there on a regular rotation every few months and every single show we have had there has been so much fun. Always a fun crowd, always a great staff to work with. There is nothing better than when you finish a show and people have enjoyed your music."
Like many musicians, Terry explains that all his life he wanted to move to Nashville and become a famous country music singer. At this point in his life, though, he says that has become less and less important to him. 
"I have learned throughout the years that I just want my music to be heard and for people to continue to enjoy it," he says. "That is all I can ask for. I work very hard with my music but I am at the point where I am going to let it take me wherever it is supposed to take me. I always say as long as I am performing enough to satisfy my passion for performing and get the opportunities to create music, I will be happy."
Terry has more excitement on the horizon. He has started working on his next project, where he plans to take his music in a different direction — less rock/pop and more traditional. But he's also getting married. 
In the new year the band plans to go "full speed ahead" and will be posting bookings on his website,  and social media. The band will be playing locally at 5th Street Hardware Restaurant and Taphouse on October 21 at 9pm.
• • • 
Originally published in the Daily Reflector October 1, 2022.