For Sarah Hollis, the Circle Will Be Unbroken
Sarah Hollis has come full circle, from playing violin in 4th grade orchestra in Pitt County schools, to now teaching music at Wahl-Coates Elementary School of the Arts. She also performs with Wyldwood String Band.
While the music she was raised around was closer to Hank Williams Sr. than Jr., Hollis could borrow from the latter's iconic song: "A Family Tradition." "Coming from a musical family, there never was a time when music wasn't playing in my house," she remembers. Her father, Lane Hollis, plays "anything to do with bluegrass, banjo and guitar," and her mother, Sharon, plays guitar and some clawhammer banjo. "My father began building violins in the 80s and made one of my violins as a graduation gift. It is very special to me and I'm proud of it. And it's a good-sounding instrument!"
Hollis, who grew up in Greenville, says she has been performing music in bands since she was about twelve years old. "My dad played bluegrass and my mom played country and for a while they were in a band together, which they let me join in sometimes to gain experience," she says.  "I think some of my favorite musical memories include going to music festivals  and watching people from all over come together and make music and nighttime jam sessions. This is still a favorite pastime of mine today."
While she was still in high school she had the opportunity to play in a band with Kinston native, Clyde Mattocks, well known founder of the Supergrit Cowboy Band and other groups. "I played with Mattocks' traditional country band Without Further Ado for five years and learned a lot," Hollis says.
In a 2012 article in the Free Press, columnist Mike Parker writes, "Clyde is sly as a fox. This year, he smuggled in a special talent — a 17-year-old senior from J.H. Rose High School in Greenville. Sarah Hollis proved she could hold her own and more in this talented ensemble." After editorializing about her command of the instrument, Parker waxed nearly rhapsodic in describing her performance of  "Orange Blossom Special": In a flash, the current went through the audience when they recognized the beginning of the song," he wrote. "Sarah lost herself in the music, and the rest of the band gave her space to do the most spirited rendition of that song I have ever heard in live performance. Not only did Sarah play at run-away speed, she also added a few improvised flourishes that showed how she had made that song her own.When the song ended, the audience was on its feet and cheering."
Also while in high school Hollis focused on music for her senior project, called "Music Across Greenville." She and a couple of her violinist friends got together a group and visited elementary schools that fed into J. H. Rose, playing and introducing students to music. "We heard they were taking out orchestra programs and arts funding was getting cut. We wanted to help out with that," she said. "It helped inspire me to major in music. I ended up going to ECU for music, violin performance and switched to music education. All the pieces fell together. It felt natural."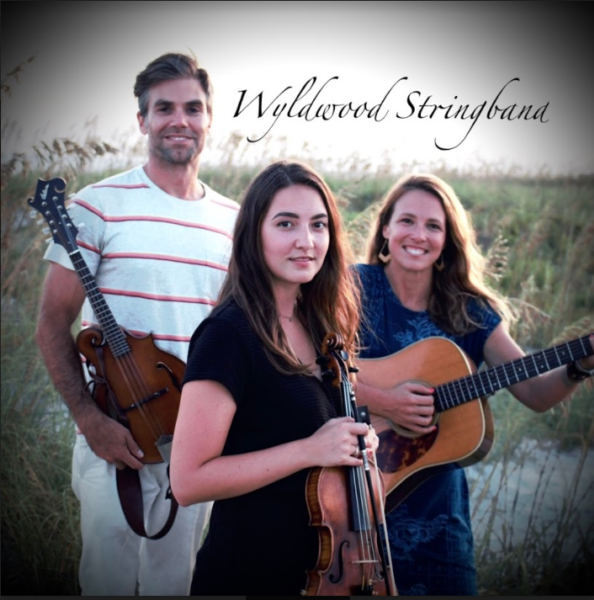 Hollis began playing with Wyldwood while still in college, when her father told her about someone he knew needing a fiddle player for a gig. "I ended up playing with Caroline Tanner and Phil Lanier (whom I'd never met, let alone played with before), but that's how the music community works. It's all about connections and that's how you meet more people to play with!" she says. "We found out later that my dad and Phil's uncle actually played together in a band called Bittercreek when they were younger and that's how I got the gig in the first place."
The name "Wyldwood" didn't come until a couple of years after that first gig together. They began playing more festivals, trying to get their name known. Tanner is from Canada but has lived in North Carolina for the past several years. She plays guitar and banjo. Lanier is from the Winston-Salem area, playing guitar and mandolin. "We have a blast together," Hollis says, "but I think my favorite part about our music is singing harmonies and just having fun with what we are playing. Occasionally we have bass player Zak McLamb sit in with us on festivals and recording- he's amazing!"
Regarding styles of music, Hollis says she has personal connections to genres such as folk, bluegrass, and classical, but asserts, "I really do love most genres of music." She adds, "I love that aspect of my job. Part of my job is getting to work with every genre of music. I will literally listen to Broadway tunes and bluegrass music in the same sitting."
But when it comes to playing, she gravitates towards acoustic folk style of music, Hollis explains. "In the past I've performed bluegrass, traditional country, classical, and folk musical styles. At ECU I got to play violin in a jazz combo for a while, which was a really cool experience and I learned a lot from. What I really love about my band now is that we have the most fun covering songs from other genres and putting our own folksy spin on them."
Wyldwood put out their first single, "Shackles," last year. An original by Caroline Tanner, it's available on most streaming sites. Look for an album release by Wyldwood within the next couple of months. Perhaps only Hollis' father and Carter Family fans will get it when I say, 'Don't miss the opportunity to hear this 'Wyldwood Flower'."
• • • 
originally published in the Daily Reflector January 31, 2021