With Musician Josh Campbell, Everything Old Time is New Again
As a virtual church pew-warmer, I'm no longer a foreigner to double vision.
I thought I had it the first time I saw local musician Josh Campbell…or Josh Campbell and his talented identical twin…playing guitars during an online service. But it was just a trick of the devilishly good technology.
Josh Campbell is assistant director of music at Hollywood Evangelical Presbyterian Church. The performance I caught of Josh2 was "Prepare Me to Be a Sanctuary." It's an ironically appropriate hymn title to choose, considering we have been having to do just that: be or find a sanctuary anywhere we can. Socially, if not spiritually, isolated.
"The virtual services have come a long way since March," Josh explains. The first time he prepared music for a virtual service it was a livestream on Facebook in the music room of his duplex, standing in front of his phone, playing and singing. After the first few weeks of that, he started exploring pre-recorded music videos. "We've really upped the production value. I use pro tools now, and track multiple instruments for all the songs so that we can have as full a sound as possible."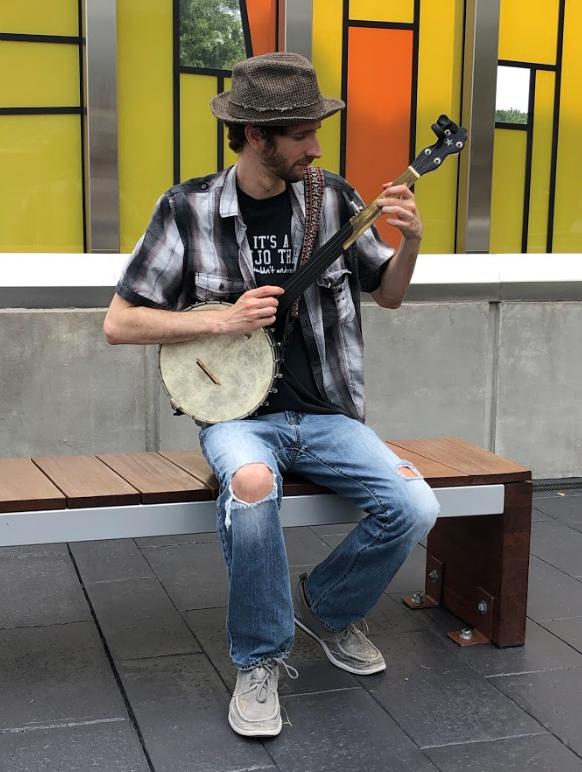 An ECU graduate in classical guitar performance and music theory/composition, Josh grew up playing handbells and singing in the choir in church. But his interest in another style of music is best explained with a story, Josh says. "When I was about 15 my grandfather pulled a banjo down out of his attic and told me that if I could learn to play it I could have it."
His grandfather gave him the banjo and a method book about bluegrass banjo. Several years later Josh was a young bluegrass player at the Old Fiddler's Convention in Galax, Virginia when he heard a Clawhammer banjo for the first time. "I had to walk all the way across a baseball field to find where it was coming from. The person playing it showed me how to do what he was doing, and I've preferred Old Time Music ever since."
One of his favorite Old Time songs to perform is called "The Walking Boss." "This was a song that I first heard performed by Mike Seeger, but he had learned it from Clarence Ashely." The "walking boss" was essentially the supervisor for folks working on the railroad, Josh explains. It was sung by the workers while the walking boss was around.
"The House Carpenter" is another favorite. It's an old ballad with Scottish roots that tells the story of a woman married to a House Carpenter. A man (usually a demon) returns to his true love after a long time at sea and finds her married to the House Carpenter, but convinces her to leave her husband and baby behind. The story ends with them sinking at sea. "While I was working on my composition degree at ECU I turned this into a roughly 40 minute chamber opera. It has since become one of my favorite ballads to perform."
His earliest musical memory is falling asleep listening to cassette tapes of Ricky Skaggs, and his uncle's band, the Plum Hollow Band: "Both were of a bluegrass or country variety, but those tapes definitely informed my interest in the banjo."
But some of his musical influences are surprising, considering a preference for old-time music: "I would never have started playing guitar if I hadn't been such a huge Metallica fan in high school. I bought a sitar because of George Harrison and the Beatles." Other influences he cites are Rhiannon Giddens, Mike Seeger, Nickel Creek, Clarence Ashley, Tommy Jarrell, Bruce Molsky, and Flatt and Scruggs.
He did Flatt and Scruggs proud, and his grandfather too. He considers his primary instrument the clawhammer style banjo. He also plays guitar, mandolin, ukulele, piano, and harmonica.
 "I've never wanted to do anything else, " Josh shares, explaining what sparked his interest in music as a career. "I started playing the trumpet in fifth grade, and knew I wanted to be a musician as early as middle school. I started playing guitar in tenth grade, and banjo in eleventh grade. I took a long time finally going to college to major in music, but I've always known that I was going to be a musician of some kind."
Like other musicians, Josh has been impacted by the isolating times of COVID-19, but has remained busy, In addition to virtual worship services, he has continued to teach online private lessons (guitar, banjo, piano, mandolin, ukulele, harmonica, music theory) as  much as possible. "The three music festivals that have been put on by the BoCo Music Facebook Group have been another way; I've played a set in all of them so far." The group features livestreams of musicians in and around Beaufort county. 
Josh has two musical aspirations. The first is to continue playing and teaching for his primary income, and the second is to "keep old time music alive by continuing to go out and share it with people."
Campbell is on Facebook and Youtube under JccOldTime23.
• • •
originally published in the Daily Reflector July 5, 2020