Grammy-winner Mike Compton, based out of Nashville, Tennessee, has what Mandolin Magazine calls "a worldwide reputation as one of the modern masters of bluegrass mandolin, and one of the most recognizable and respected mandolin voices anywhere."
He was born in Meridian, Mississippi, in 1956. He told John Bridgland for Bluegrass Unlimited about growing up:  "I mainly gravitated toward people my grandfather's age. I didn't know that many people my age when I was growing up that were interested in the least in what I was interested in–musically or lifestyle-wise. I was more interested in the old style. I don't know why. Didn't matter, I guess."
A local mandolin player introduced him to bluegrass and Bill Monroe when he was 15 or 16: "And I couldn't get it. The sound was deceptively difficult. I just became obsessed with it from the time I was about 15 or 16, up until I moved to Nashville."
In Bridgland's interview, Compton talks extensively about encounters with Monroe, not all of which are musical: "I'd go up to his house and do jobs for him or plow his garden, and once or twice, I'd shovel a truck of horse manure to put on my garden."
After moving to Nashville, he joined Hubert Davis and the Season Travelers in 1977 and played with them until 1981. In 1984, he became a founding member of the Nashville Bluegrass Band. He toured from 1994-2004 with John Hartford, with whom he made six CDs.
Compton met Joe Newberry in 2009 and they've embarked on several tours and recording projects together. They've done three of those "you shoulda been here" shows at RAF. After one of them, we were in line for breakfast at our local diner the morning after, and someone sort of shyly interrupted our wait to inquire, "Are you, I mean, are you Mike Compton?"
Upon confirmation that this was, indeed, the Mike Compton, the asker (who'd won the men's division of the Peanut Toss at our 2009 Peanut Festival) revealed he had a Compton CD in his pickup truck, went for it to get it autographed, and as we sat down to eat our cheese biscuits, he was still muttering to himself about Mike Compton being right here in Mickey's, and how he could have seen him just last night, right here in Fountain. 
I didn't mention our weekly newsletter, news releases, and phone message machine and how there'd have been a seat for sure had he stopped by. 
Compton's first Grammy came as a member of the Soggy Mountain Boys in the 2001 film O Brother, Where Art Thou? and he won a second as part of the recording of the O Brother spin-off Down from the Mountain album.
–Alex Albright
Sources
Bernhardt, Jack. "Compton and Newberry: Partners in Friendship and Song."  Bluegrass Unlimited. Oct. 2019. Buy it.
Bridgland, John. "Mike Compton: Carrying the Torch." Bluegrass Unlimited. Sept. 2008. Buy it.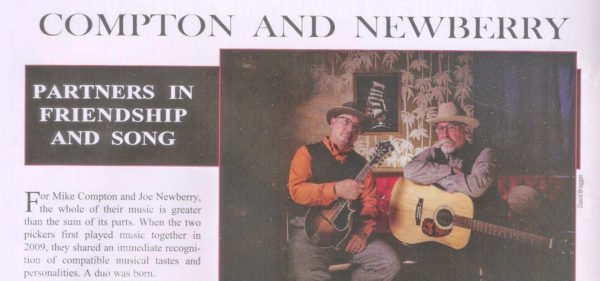 Date(s) performed at RAF