Feelin' Good Again at the State Theater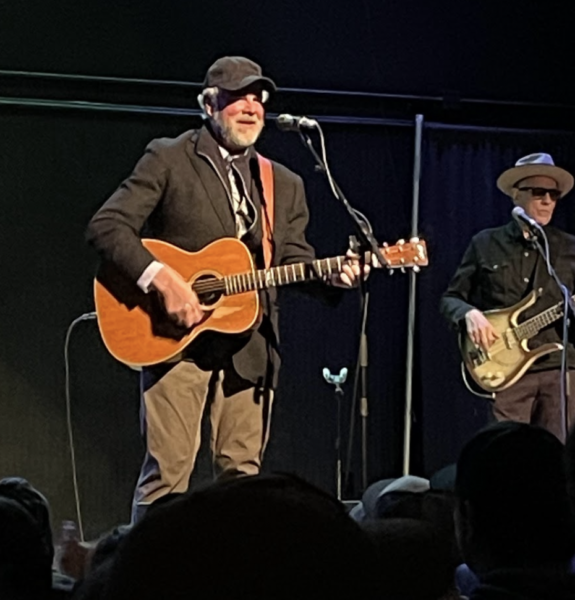 "Now I know the difference between Greenville North Carolina and Greenville South Carolina…y'all can sing." Robert Earl Keen indulgently offered this compliment to the crowd gathered at the State Theater Saturday night. Even knowing he probably flips it around when his path crosses south of the border, it was welcome affirmation. And not completely unfounded. Keen's fanbase turned out en masse, demonstrating faithfulness by braving messy road conditions and sing-shouting words along to his signature songs.
The concert had been rescheduled from November, and earlier in January Keen announced his intention to retire from touring and public performance later this year. 
Several posts to the venue's social media site expressed regret that the show had not been rescheduled again. "How are we supposed to get there?" some textually wailed. I anticipated sparse attendance.
As it happens, the roads were not bad at all for the modest distance we had to travel. I'd also assumed that the audience for the 66-year-old Texan would skew towards the mature side (assuming they would brave the roads). But I underestimated the breadth and fortitude of Keen's fan base. For context, a 2018 Rolling Stone magazine article title says it all: "How Robert Earl Keen Became a Country and Americana Cult Hero."
Even 30 minutes before showtime, the venue was teeming with exuberant fans. White lights draped from the ceiling like a canopy of stars created an ambiance and colorful lights drew the eye to the stage where 7 guitars were lined up expectantly beside a drum set. Plaid shirts and trucker hats were the most popular fashion statements. A woman standing near me wore a sweatshirt with the words, "Cuddle Weather."
"There are more men here than women," I observed to my husband. "Definitely," he replied. I wondered why. The weather? The style of music? Is Keen considered a "man's man"?
At 8:00 p.m. a youngish looking fellow wearing a trucker hat and full-jean ensemble settled onto the stool, center stage, with an acoustic guitar. He introduced himself as Jake Sutton, from Kinston, before launching into "Where the Blacktop Never Ends."
He followed it with an original, "I Made it with You," and then "Let me Down Easy." While his voice and originals were quite good, he got the most audience response after singing the familiar John Michael Montgomery song, "Sold (The Grundy County Auction Incident.")
About 8:20 Sutton bravely shouted to the audience, "Are you ready for some Robert Earl Keen?" and received a cheering response. I say "bravely," because he kept on singing a few more, finishing up with his latest single, "Goddess," about 8:30.
By this time we'd been at the venue for an hour, performing a stationary pole dance as we used the supporting structure to lean on. At 8:52 the crowd started chanting, "Robert! Earl! Keen! Robert Earl! Keen!"
I spotted local musician William Seymour in the audience, edging towards the front. I imagined him filling in until Keen got there, like Ricky Skaggs described in his autobiography doing as a youngster at a Bill Monroe concert.
But before that fantasy could grow legs, retro-Texas style music started playing through the sound system. Songs like "Dog House Blues" and "I Ain't Got Nobody," complete with some impressive yodeling. After several songs serenaded a patient audience, at 9:11pm, the lights dimmed.
The band took the stage, lead guitar player suited and cowboy hatted, drummer, bass player, and Keen, on acoustic guitar, opening with "Shades of Gray" and then "The Rose Hotel." They were story songs, Keen's bread-and-butter, the latter with the moving words, "Sometimes you run, sometimes you stall / sometimes you don't get up at all."
When the crowd recognized the familiar opening strains of "Feeling Good Again" they cheered and sang along. Cabin fever and pandemic fatigue converged in a perfect storm of receptivity.
The impact of Keen's original songs account for a lot of his following. A commentator on a Youtube posting of "Feeling Good Again" said, "Two years after my wife of 33 years passed I heard this song; it set me free."
Another said, "I survived open heart surgery in 2010 and this song will always represent how I felt returning to normalcy. I can't describe how much it means to me."
When Keen sang "Gringo Honeymoon," the audience shouted back, as if cued, "I ain't never going back."
The more pensive,"I'll Be Here for You," prompted a couple in front of us to hold each other tight, swaying through the whole song.
"Bill [the bass player] and I have been together for 27 years," Keen explained. "It's like a marriage without the yelling." He introduced a song they wrote together called "Blue Light" with lyrics that might begin to explain his retirement decision: "Another night, another town / That old road can drive you crazy."
Between songs audience members shouted out favorites they wanted to hear. "Front Porch!" "The Road Goes On Forever!"  
The concert brought back memories for local Keen fans. Michael Webb said, "My wife and I saw him live when he was just getting started back in Texas. We sat with his family at a honky tonk called Southern Junction in Rockwall, Texas."
Patrick Reid said, "I first saw Robert Earl Keen in 1996 at Farm Aid. Hootie and the Blowfish hosted in Columbia, S.C." He especially remembered the songs "Merry Christmas from the Family" and "The Road Goes on Forever." Reid has seen him several times, including in 2005 at Norfolk's Harborfest and in 2011 in Rocky Mount, at the Dunn Center for the Performing Arts. "The coolest thing was at the end of the night, he and the band lined up at the very edge of the stage completely unplugged (no mics or anything) and ended with Billy Joe Shaver's 'Live Forever.' The audience was perfectly quiet and on the edge of their seats making sure to hear as well as they could. It was a special moment unlike any other I've ever had at a concert."
In the middle of a pandemic that often feels like a "road that goes on forever," for one night at the State Theater, concert goers united in sentiment: "It feels so good feelin' good again."
• • • 
Originally published in the Daily Reflector January 29, 2022.