Faithful, Fearless, and Feisty: Organist Frances Cain
The ruby slippers Judy Garland wore in the 1939 musical film The Wizard of Oz are no greater marvel, as far as I am concerned, than the shoes Frances Cain pulled out of a bag as she settled on the organ bench in the empty sanctuary.
"Have you ever seen a pair of 52 year old shoes?" She smiles with a hint of pride and mischievousness in her voice.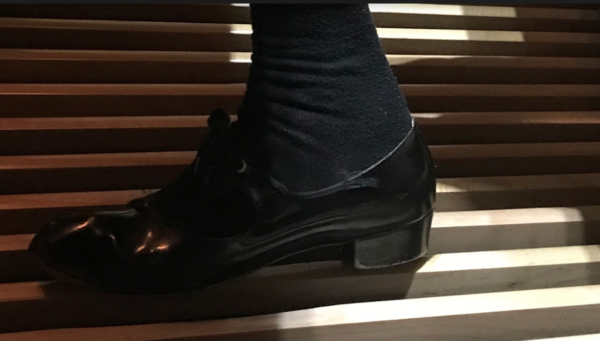 They look like dancing shoes. The black patent leather shoes she bought in 1968 were both shiny and worn, if that is even possible.
"They're tap shoes without the taps," Frances confirms. That struck me as appropriate, as she uses them to tap dance the bassline across a stage of organ pedals.
While we talk, she changed into the special shoes she'd worn for over half a century while playing the organ at St James United Methodist Church in Greenville. 
In October 2018, the 50 year mark of Frances' tenure, Pastor Ben Alexander saus, "When you include Sunday services, funerals, weddings, and charge conferences, I estimate that Frances Cain has probably played more than 6 or 7 thousand worship services at St. James over the last 50 years!"
She started playing in her home church, Rosemary Methodist Church in Roanoke Rapids, when she was 12 years old, she explained, "because no one else would do it." Her father would lead the singing each Sunday, and they would sing whatever hymns she had learned during the week. Her piano teacher also could teach organ, so he helped her when the church got a Hammond Organ in 1953. "I played for my first funeral at age 12 and my first wedding in 1952 at the age of 15," she says. And she has been playing for 71 years.
At some point I ask her if she felt comfortable talking about her age and she smiles and says, "Well I told you I started playing when I was 12 and I've been playing 71 years. You can do the math."
Anyone spending any time with her would have trouble reconciling the math with her vivacious demeanor. She moves lithely between the piano and organ, depending on the demands of the song arrangement.
Frances left her hometown of Roanoke Rapids in 1955 to come to Greenville to enter East Carolina College (now ECU). "I actually entered as a music major because I won the Crosby Adams Senior Concerto Scholarship held in Greensboro by the NC Federation of Music Clubs."  
She entered the Bachelor of Music in Performance degree program and was the first female graduate with this degree in 1959: "They had just put this program in about 2 years before I came. While I was an ECC student my church job was Memorial Baptist Church in Greenville, then on Green St." 
Frances graduated at the end of winter quarter and was married in March to Bill Cain, an ECC football player. When in other cities with her husband's job, Frances always had a church job. "I began playing at St. James in 1968 because my husband was offered the job as freshman football coach at ECU," she remembers.  "He remained at ECU for 50 years in different capacities—teacher, coach, and athletic director."
In the 1970s, before Minges Coliseum was remodeled, Frances remembers when the facility included an organ, and she was asked to play background music for people entering the game, and the National Anthem. "I worked with the cheerleaders on certain yells, " she said. "I thoroughly enjoyed doing this!"
Some might say Frances came by her musical talent naturally, surrounded by family, and perhaps that's why she says she never remembers getting nervous when playing. "I remember my father, my brother, and me entertaining at clubs, like the Lion's Club, in Roanoke Rapids," she says.  
Her father was the leader of the group, and he would tell jokes and introduce the program. Then, he would play his saxophone along with her brother who was about 9 years old at the time. Her brother would also major in music at ECU, about three years behind her.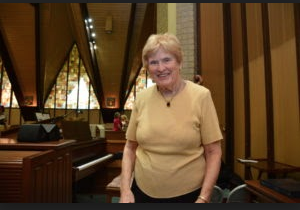 Frances Cain is something of a local legend, not only for her incredible tenure playing the organ, but also for the tan VW bug with eyelashes over the headlights that she has driven for 51 years, and her colorful stories. One of them is that she went to high school with the actor Will Ferrell's parents. "My brother played music with R. Lee Ferrell (Will's father) and Kay, his mother, lived in my neighborhood," she said. "R. Lee always said that when he finished high school he was going to marry Kay and go to California and 'make it big'.  Well he did just that—and he ended up being the keyboardist for the Righteous Brothers."
In 2013 Frances  received the Distinguished Alumni Award from the ECU School of Music. Incredibly, she still practices every day and has been married to her husband, Bill, 61 years. They have 2 sons, Lance and Tracy, 5 grandchildren, and 2 great-grandchildren. She goes to as many concerts and recitals as she can.
When asked how the pandemic has impacted her, Frances said that she is coming to church to record 2 or 3 times a week, but not being there on Sunday morning is something she hasn't done since she was 12.
Pastor Ben Alexander may have summed up Frances Cain's music ministry best when he said, "Frances does not play the organ for attention, but so that people will pay more attention to God."
• • • 
originally published in the Daily Reflector October 4, 2020