Stepping Out, Into the Fog
A vertical retro neon Turnage Theater sign glows like a welcoming beacon to the town that is long on charm with no shortage of reasons to make the short drive from Greenville.
Mayberry, the small-town holy grail, didn't have a waterfront walkway, and while it did have a movie theater where Andy and Barney took Helen and Thelma Lou on double dates, it was no Turnage Theater. Washington boasts both: the scenic Stewart Parkway, perfect for a hand-holding evening stroll, and the well-loved-and-preserved Turnage Theater, hosting special events like the Winter Regional Concert Series, which included Into The Fog on a recent Thursday night.
It was a non-ticketed, donations-appreciated event, and judging by the audience's reaction, by the time the concert was over most were likely thinking, "Man, I didn't give enough…here, take my wallet…."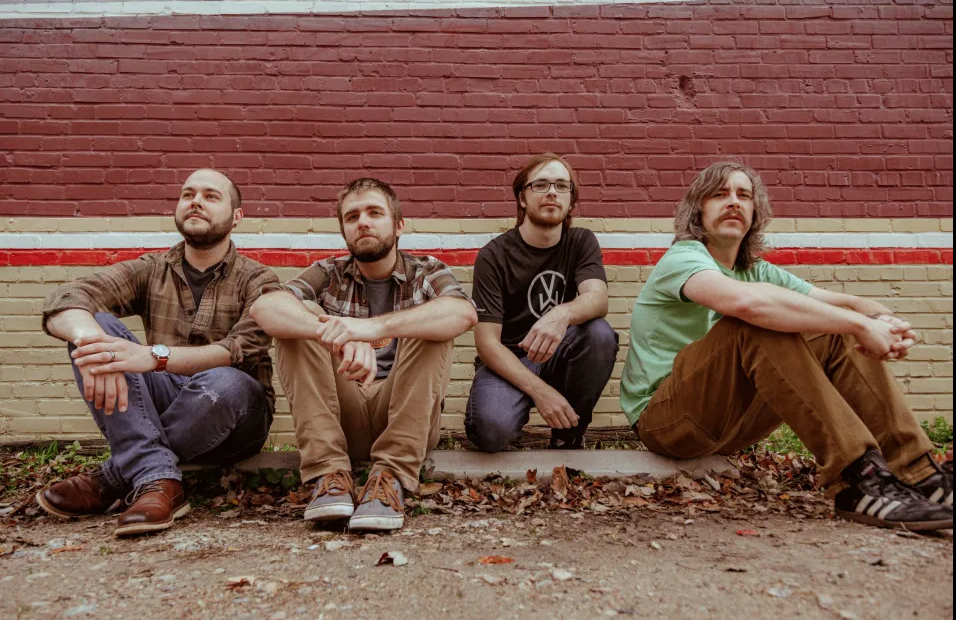 The band from Raleigh opens their set with "Oh, Caroline," an original song by guitarist Brian Stephenson. The band simultaneously exudes youthful energy and experienced command of their instruments.
"Tell how you got your name!" someone from the audience prompts. The story admittedly lacks a lot of sizzle…meaning they kicked around ideas for a couple of weeks until they settled on a name they didn't hate. But their explanation makes sense,"We have different music influences and don't want to be pigeon-holed into one…so foggy."
Their instrument choices (upright bass, guitar, mandolin/dobro, and banjo) and plaid-shirt-and-jeans appearance suggests bluegrass. The audience includes a strong contingent of bluegrass aficionados, the Beaufort County Traditional Music Association, the organization that hosted the event. While purists might label their sound as "newgrass," those in attendance respond to the gospel they are preaching and seem perfectly content with the foggy genre, since the sound is so clear.
The set includes a variety, such as an original tune, "Final Destination," written by mandolin and dobro player Winston Mitchell, who looks a little like a young David Crosby, with side-parted long hair and substantial mustache.
"Cacawphonation" is an original that uses a word that doesn't exist for the title, the guitar player explains. It's a melding of blues and grass with haunting lyrics, "hoping for salvation at the end of the day."
The upright bass player, Derek Lane, is full of personality, wearing Buddy-Holly-Meets-Mad-Scientist glasses. As the band plays an intro to a song he wrote, it starts to sound a bit like a bluegrass "MmmmBop" from the Hanson Brothers, but morphs into a more substantive but equally catchy tune, with the echoing refrain, "Always have to steal my kisses from you." Later he will lead another song he penned with a distinctive blues sound, and he explains it's about "when you're feeling a little down." It includes the thought-provoking lyric, "I've got to lessen my mind to myself."
The event is held in the gallery of the Turnage Theater, with 80 or so chairs set up on the parquet wood floor, and most are filled. The walls are covered in wildlife art — mallards, geese, heron—from a recent competition. A crystal chandelier and ornate curtains are a nod to a bygone era. Stained glass hangs in the window behind the band.
Just before intermission the audience is treated to an original song, "Last Rocky Mountain Ride" that segues into Pink Floyd's "Time," demonstrating the band's versatility and wide appeal.
More than once the banjo player, Michael Malek, remarks about how nice it is to play to a group that is actually there to hear them…and not just drinking beer and talking.
"The next song is one I wrote, 'Back to Tennessee,'" the guitar player explains. "The first time we played in Tennessee was last week and we played this song….and I was like, 'Nice! We might go back someday…'"
The evening is not complete without nods to Flatt and Scruggs ("Don't Let Your Deal Go Down," and "Blue Ridge Mountain Home").
"You might know this next one…" the guitarist begins, telling a favorite joke in bluegrass, "It's called 'Tune'," adding, "They say 'banjo' is African for 'out of tune.'"
After originals "Truck Stop," "Midnight Wind," "Railroad Man," and "Midnight in Montana," the guitar player introduces "a little Charlie Daniels tune," as the band breaks out in "Call up Trudy on the telephone…"
"Trudy," had been intended as the final number, but substantial applause and an appeal from the host brings the band back to play another. It's a rousing Woody Guthrie number, "Crawdad" that begins with the familiar, "You get a line and I'll get a pole, honey…"  
The bass player tilts the instrument that is taller than he is, stands on the side of it, and continues to play. And as they say…."the crowd goes wild."
"Can it get any better than this?" is the phrase written on the faces of the smiling audience and band members.  There is no need for smoke and mirrors here. No fog machine for special effects. "Into the Fog" sends a clear message: authentic, acoustic music is alive and well in eastern North Carolina.
• • • 
originally published in the Daily Reflector March 8, 2020