Psylo Joe Is Evolving and Riding the Energy
They're not exactly working in a silo. The psychedelic rock trio based out of Greenville is more than happy to share their music. In fact, over the past five or more years they've been touring, the band has developed what they call a "loyal and congenial following." The trio includes Greenville native Bryan Quintard on guitar and vocals, drummer Thomas Barrington from Plymouth, and George Thornton, from Raleigh, on bass and vocals, who moved to Greenville in 2009 to attend East Carolina University.
"The band name comes from living in a house on the grid in downtown Greenville that had this amazing and huge barn/hangar that we called the Silo," Quintard explains. "We had massive parties and gatherings there that turned into music shows and psychedelic jam parties."
When he was trying to come up with a band name he asked his mother what she thought when he told her he wanted it to have something to do with the silo. She said "What about Silo Joe?"
Quintard loved it and thought it fit perfectly, but wanted to spell it with a "P S Y" instead of "S I L" to relate to the psyches and the mind. The band's distinctive logo is a brain with the letters of the band's name creatively woven through gray matter…or purple or turquoise matter, as a matter of fact. "'Joe' came from us being a bunch of average Joes doing what we love," he says.
The band originally formed in 2014 after meeting partly in college and through the downtown music scene at open mics.
"I feel like it all started when we got Tom (drummer) to come up and play with George and me at an open mic at Peasants Pub," Quintard says. "After that performance we all wanted to get together and play electric. Then it all warped into hyper speed. We played our first gig at the Battle of the Bands and won. That's when we were like 'Okay man we got something special going on'. We've been riding that energy ever since."
When describing the band's style, Barrington says, "Our writing style sort of gets everyone in the band involved. With each person, you have different influences and approaches to writing. So I often feel like we incorporate anything from funk, to rock, to blues, to reggae, to soul. The goal for me is to create music that people enjoy listening to. I think we keep a very open mind when it comes to what sort of styles we may incorporate within the process in order to make something that is unique to our voice as a band."
"We focus a lot on improvisation and exploring the sonic landscape of a song," Thornton says, "and really pride ourselves on our ability to take a song to new places, or change tempo, rhythm, or key on a whim." 
"We keep evolving and we love that," Quintard adds."New musical influences are coming in and driving us to new spaces. We used to have an incredible saxophone player named Hunter and it's really made us take a step back and be more patient. I feel like we have been writing the best songs in our career so far partly because of that."
But at the heart of the matter (gray or purple), Quintard says simply, "We play psychedelic rock music!"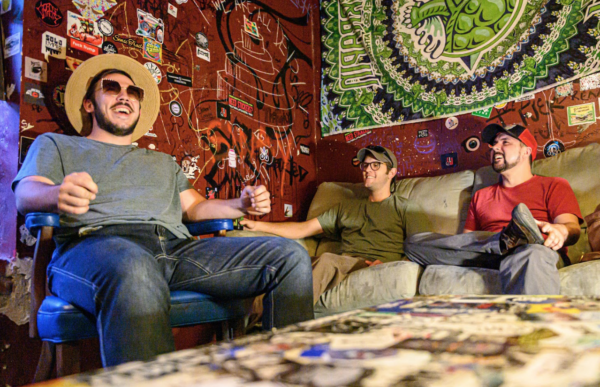 Quintard describes the feeling of being on stage, playing music, in rhapsodic terms: "I am a music lover. I love being in the moment and just closing your eyes, tilting your head back and just feeling every note played. I get that same feeling when I am on stage playing for people. It's a little better though because you can sort of control the canvas to which everyone is drawing on. I hope most people at our shows feel the same way, where they are free of whatever they have going on in their life and they can just breathe and be in the music together with all of us. I truly think of it as a religious experience and I feel most people can relate to that. If we can bring anything close to that to one person, then I'm happy."
For Barrington, performing is an interactive experience. "As a performer, you always have the audience's experience in mind. You want to put on a good show; the whole reason we play is to bring that music to people," he said. "So when you see positive reactions to songs or moments during your performance, it's really encouraging to you. You feed off this energy and return it to the audience again through your playing. This connection between musicians and listeners is what makes for really fun shows."
"Interplay between the band and the audience is a big factor for us," Thornton adds. "When it comes to improvisation we feed off the energy that the crowd provides and have had experiences where the audience's energy has pushed our own musical boundaries past what we thought was even possible, and that has just compounded over time. That type of interaction is what we live for, and why we love doing what we do so much."
While the pandemic was tough on the band, like most performers, some positive things came out of it. "Quarantine has been good in the sense that it has given us the opportunity to write new material, and we have come up with some of our favorite songs over the last year," Thornton says. "One in particular called 'Backside' has become a new favorite; it has a really driving groove, great lyrics and catchy melody that we have really become fond of playing.  We have a new one called 'Stardust' that we can't get enough of either. We plan to get back into the studio soon and are really excited to get all this new material we have on tape."
Playing their first show since the pandemic was a feeling Quintard describes as  "like none other– it really showed you how much music meant in your life. It's so hard to put into words. It's saved my life. We aren't slowing down anytime soon!" 
The band is active on social media, including Facebook, YouTube, and Soundcloud.
• • •
Originally published in the Daily Reflector My 29, 2021
• • • 
More about Psylo Joe band members
Bryan Quintard is proud to say he's lived in Greenville his whole life: "Born and raised. I've seen how much it's grown since I was little, and now we are helping the music scene here and there's something special about this town. After all the friendships we have made since we have been playing music here it's incredible. This is our home. We wouldn't change it for a thing."
Quintard was 12 years old when his sister got a guitar for her birthday. It sat in a room and never got played. "It was a right handed guitar and one day I decided to pick it up and I played it left handed not knowing which way the strings were supposed to go," he said. "The first song I played was Smoke on the Water ( like most) … I was really into Led Zeppelin, Grateful Dead, Jimmy Hendrix, Allman Bros and started diving into their catalogues among other things."
It was a memorable time for him. "I was with my best friend Wings and he wanted to play guitar while I wanted to play Bass. I remember this moment when I could hear the guitar riffs in my head and was like 'Man I really think I could do the guitar thing. I can just hear the riffs in my head but I can't actually play them yet.' Fast forward… now I can play those riffs I was dreaming about."
Guitar influences include Jerry Garcia, Slash, Buckethead, Trey Anastasio, Warren Haynes, Jimmy Page, and Jimmy Herring. 
In addition to what he cites as obvious choices, Grateful Dead and Phish, Quintard names band influences as the Doors, Hendrix, My Morning Jacket, War on Drugs, and Lotus.
When asked about favorite songs to play these days, Quintard said, "I've really been digging the War on Drugs. They are an incredible band who have been seriously influencing my style as of late. I've been digging into some different stuff like Kurt Vile, Amo Amo, the list goes on. I've recently been swarmed by new music and I'm loving it. Gives me a break from listening to Phish all the time."
Some of his favorite tunes to play as far as covers go are "L.A. Woman" by The Doors and "Rule the World" by "Tears for Fears." Recent original favorites are "Stardust," "Backside," and "Beautiful." 
Thomas Barrington credits his mother as a major music influence. "My mother is a music lover," he said. "I grew up around a lot of music being played and it's always seemed like a part of life."
While he was drawn to music and played a bit of concert band percussion while in school, he didn't think he'd ever actually play in a band like Psylo Joe: "I started off playing drums at open mic nights around town and eventually got hired to play in one. Felt like a 'hobby,' something just for fun. But I got hooked on the feeling of performing on stage. It just kept growing from there."
The encouragement from friends who manage to make it to so many of their shows had a profound impact on Barrington. "They're the ones who make it seem so special and give us the encouragement to keep it up. We have been lucky to have our friends and family believing in us all along the way."
The goal Barrington has for the band is to better himself as a musician/performer, and to just try to reach as many people as possible. "Ultimately what it's all about for me is sharing our music with listeners."
George Thornton came to Greenville in 2009 to attend ECU, where he majored in economics with a minor in business administration.
He started playing drums at the beginning of middle school after taking piano lessons and not quite enjoying them. He began playing guitar around age 15. "My granddad was very musical and would always be playing guitar and trying to show me how to play when I was a kid," he explained. "I believe that's where my initial love for music began."
Grateful for his grandad and parents' support, Thornton said, "Whether they were paying for me to get lessons or helping me afford a new instrument or just encouraging me to practice and learn more, I wouldn't be where I am today without them."
Thornton acknowledges the impact of the pandemic on musicians. "We found ourselves quite fortunate that we all had jobs we work outside of playing music. But a whole year without gigs has been quite a burden not only financially but mentally and emotionally," he said. "We had to make about six months of van payments out of our own pockets (usually that bill is paid by gig money) but were fortunately able to make it work and pay the van off entirely." 
But the pandemic hasn't been all bad, he said. "It  has allowed us to get back to the basics and reassess what is really important to us with music, this band, and our lives in general. It has been nice to be able to slow down and we have some new songs that have come out of this time that we are super excited about."
Concerning the future of Psylo Joe, Thornton said, "We are just enjoying the ride and seeing where we can take this band. We are hoping to touch as many people as we can with our music, because we believe music heals."