Catherine Walker seeks peace through creativity
Is Catherine Walker an artist who plays music or a musician who is an artist? "They are separate, creative parts of my life," the Professor of Art in the ECU School of Arts and Design and Celtic band member explains. Both have brought her a long way, quite literally. She was born and raised mostly in London and spent some of her childhood in South Africa before settling in Greenville in 1980 at age 19.
By the time she was 9 years old, she knew she wanted to be an artist. "I found more peace in art than in anything I've ever done," she says.
But music was introduced to her at a young age too, beginning with piano lessons in elementary school, before a more portable instrument caught her eye: "When I was 8 or 9 my mom took me to a Catholic church on Saturday mornings. Father Ivano would pour out the whiskey and play his accordion. I fell in love with him and his accordion. My mother did too. Soon after that my parents found a small accordion for me and a teacher, the renowned Max Adler, who taught at University of Cape Town," Walker said.
She took lessons with Adler for several years before moving to London. "I lost my original accordion to a house flood in London," she recalls. "I didn't play again until my 50th birthday when I was gifted a new instrument from friends."
But along the way, she made a connection with another instrument: the recorder: "In the summer of 1979, I lived on a Greek Island with my boyfriend and two Dutch girls played the soprano recorder. They played haunting Celtic music. When I went back to London I bought a recorder, the best quality Moeck recorder made of rose wood that I could afford, and taught myself to play."
Then in 1980 Walker came to Greenville with her recorder in her pocket. "I used to spend too much time at the Rathskeller, a bar owned by Les Wall and Gary Thompson," she says. "The latter can still be found at Christy's Euro Pub. The Rathskeller regularly had live music in the evenings with Mike Hamer, Sue Luddeke, and others. Some of these musicians invited me to play Celtic tunes on stage with them. I played for a couple of years until I started Art School at ECU. The demands of the degree program didn't allow any more time for music. I didn't begin playing again until I turned 50 years old."
Prior to ECU, Walker attended the Central School of Art and Design in London, now called Central St. Martin's: "After that I went to ECU where I've been since 1981, undergrad and faculty." Walker also began teaching at Pitt Community College in the late '80s.
After a hiatus of 30 years, Walker made room for music in her life again.:"I met Mamie Dixon who insists all her friends play a musical instrument. She had me unpack my recorder and start playing again. Mamie connected me to Jon Shaw, who was just starting an adult recorder ensemble. Jon took me on as a student and there was no looking back. I've been playing ever since."
And soon the Celtic band Twisted Knot was born. "The Celtic flute is the signature sound of Twisted Knot," observes Dixon, who directs the band.
"We started as a duo, with mandolin and soprano recorder, and added players and vocalists over time," Walker says. "My son, Louie, designed the logo, a twisted Celtic knot, when he was still in high school. He went on to major in design at NC State University. He presently resides in London as a professional designer."
"I play an electric alto recorder, made in Germany," Walker says. "It definitely provides unique color to our ensemble. I find the effect on listeners very fulfilling."
While preparing for upcoming St Patrick's performances, Dixon introduced a Ukrainian song to the band. It opens with the wistful sound of Walker's recorder. 
"The first time I heard our band play the enchanting melody of 'Odessa,' I was overcome with emotion, thinking of the country of Ukraine and what their people are going through," Rebecca Hall, Twisted Knot band member, says. "I just knew we had to perform this song in honor of the people there, but the question that haunted me was, 'By the time we perform this song, will that beautiful port city of Odessa and its people even exist as we know it today?' I want this song to be a war cry for the people of Ukraine as we perform it. Long live Ukraine!"
Catherine Walker will be performing with Twisted Knot for St Patrick's festivities at R.A. Fountain General Store on Saturday, 3/12 at 7:30pm, tickets $13, reserved: $15: and on 3/17, 7:30pm at the Turnage Theater in Washington for the Arts of the Pamlico's St. Patrick's Day Party. Tickets are $15.
• • • 
Originally published in the Daily Reflector March 12, 2022.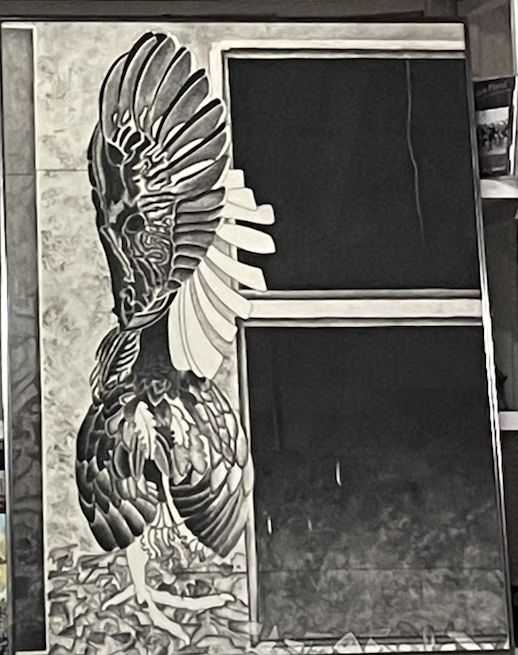 Date(s) performed at RAF