Guitarist Steve Creech Focuses on the "Productive, Meaningful, and Positive" 
It's the season when the air starts getting cooler at night and once upon a time that meant barely suppressed squeals of excitement as the Sears, Roebuck and Co. Christmas catalog arrived in the mail. And while other children were dreaming of a Slinky and Tinkertoys, six-year-old Steve Creech received a gift from the wonderland wish book that would impact the rest of his life: his first instrument. It was a Sears ukulele given to him by his Aunt Hazel Wooten, then a first grade teacher from La Grange.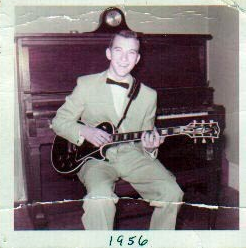 It came with a how-to book. "I put my fingers on the dots as shown in the book to make chords and learned to play 'My Bonnie Lies Over the Ocean,' Creech remembers. Family members and friends were amazed that he could play at such a young age. "I was a little mystified by their response. It didn't seem too remarkable to me to simply put my fingers on the dots of the fretboard like the book showed. Nonetheless, their appreciation did make me feel good and special."
And folks still think he's pretty special, whether due to his contributions to mental health or music, or both, as they surely are intertwined. "If you're interviewing local musicians, you need to talk to Steve Creech." It seemed I heard it everywhere I went. 
The local guitar shop owner who always has a story to tell (and who prefers to remain recognizably anonymous) first told me about Creech's high school fame in Kinston as a member of the Hi Fi's, a group that became popular enough to have their own radio show. That was after Creech had taught himself how to play guitar at age 11 and been singing with his family's barbershop and gospel quartet. The Hi-Fi's learned songs popular from the Hit Parade television show. Creech sang baritone and played guitar. A 1956 photo of him conjures thoughts of a very young, clean cut Dick Clark, dapper in dark bow tie and light colored suit.
Creech also performed frequently with his friend, Jimmy Briggs from Kinston (now Jymmi Briggjanos from Moreno Valley, CA) who sounded and looked like Johnny Mathis. The most influential person in his musical life, Creech explains, was his high school choral music teacher, Jim Hall, who later was appointed Director of Performing Arts for NC Public Schools. "Mr. Hall was very creative, talented,  and supportive, and took shy kids like myself to new heights and experiences on stage to discover and bolster their talents, confidence, and self esteem."
Creech went on to study music at Wake Forest University and then earned master degrees at Southeastern Baptist Theological Seminary and University of North Carolina at Chapel Hill, and later a PhD there. He retired in 1997 as Area Director of the Pitt County Mental Health, Developmental Disabilities, and Substance Abuse Area Program.
Dr. Steve Creech's story is so colorfully rich, it can scarcely be summarized for newsprint and deserves memoire treatment. We hop and skip from precocious child to high school music heart throb to mental health professional, but scurry to add in his guest hosting of the WNCT-TV Carolina Today television show, performing with quite a few household names, and not to be overlooked, his tennis playing prowess. 
But over the past several years the Greenville resident has become arguably one of the most recognizable musicians in the region. "We are fortunate to have many talented musicians in this area," he explains, "So, I am able to put together different combinations, depending upon the occasion, tastes, and preferences, whether it be dinner music, concerts, weddings, dances, background music, Dixieland jazz, beach music, etc." He also plays solo guitar in a chord melody style, much like a solo pianist would play for background or dinner music.
While he enjoys a variety of music ranging from bluegrass, country, sacred, big band, classical, and  opera, Creech admits that he prefers playing and listening to "the old jazz standards." 
Like so many musicians, Steve Creech has been significantly impacted by COVID-19, with about forty cancellations of musical engagements since March. But with his mental health background, Dr. Creech shares rich insight. "Music is a good diversion from both stress and boredom. Playing an instrument produces mental stimulation involving dexterity, creativity, relaxation, and self-fulfillment," he explains. "I think that we have to look for productive, meaningful, and positive activities and events, maybe new ones, within our control instead of bemoaning what we can no longer do or be. I realize that this is a difficult task, but essential for our well-being, as well as for those around us."  
During the isolating days of the pandemic, Creech has taken his own advice and stayed busy. "I have read many books, worked on some new musical compositions, rode my bike a couple of miles daily, walked two miles a day with my wife, Catherine, and developed a passion for playing a new sport for me– pool." 
Creech looks forward to performing with musical friends at CPW'S Fine Food and Spirits in Greenville on first and third Thursday evenings when normal schedules resume, as well as performing  for veterans at the Veterans Home in Kinston on first Thursday afternoons. "Also, I look forward to some future dates with  outstanding musicians at one of my favorite venues, the R. A. Fountain General Store," he said. 
Meanwhile, performances can be found online by searching 'Steve Creech, guitarist, YouTube."  Also online are original compositions on YouTube: "I Can't Believe It's  True," "Christmas Day with You," and "What More Can Be Said About Christmas" by Steve Creech, Clay Steinwinter, and Jymmi Briggjanos.
• • • 
originally published in the Daily Reflector October 11, 2020
Date(s) performed at RAF