Brian Burke Is His Own Personal Jukebox and Back Pocket Buddha
Is "Back Pocket Buddha" a band, a brand, or a spiritual state of being? Maybe all three. Local musician Brian Burke explains: "I've always been fascinated with religion and spirituality and I often found myself drawn to Buddhism. Several years ago, I was going through a difficult time in my life personally and a friend of mine who was in a band with me told me that I need to put the Buddha stuff in my back pocket and essentially 'man up' and take control of the situation that I was struggling with."  
As soon as his friend said the words, Burke thought, "That would be a great band name!" And for the past 9 or 10 years, he has made it so.
The gregarious, guitar-toting troubadour is originally from New York but migrated south to the new north (Carolina, that is) in 1997 in true ballad fashion, following a girl. She eventually left, but he stayed, attended East Carolina University, and planted roots in eastern North Carolina. "It's hard to pack up and go after so many years with so many people that I love and am connected to," Burke says.
Burke remembers music always being a part of his life, from the records and 8-tracks his parents played to the pivotal role of his brothers and uncle. "They introduced me to classic rock and the power of self-expression through music," he says. "My uncle was also a huge influence on me. He's one of the best guitar players I've ever heard and he would come over on holidays with his guitar, and my brothers and I would just watch him shred. I wanted to be just like him."
Though known locally most for his guitar playing and singing, Burke is, in fact, a multi-instrumentalist, starting from the time he was duped into playing trombone in 4th grade concert band. "I wanted to be a drummer with all of my friends," he remembers. "But you can only have so many drummers so my band teacher played me and told me that he needed me to play trombone because of my long arms!"
Burke went on to study music in college and learned several different instruments, including guitar, bass, piano, mandolin, trumpet, trombone, flute, percussion, drums.
In describing his style of music, Burke explains, "I like to think of myself as my own personal jukebox. I play music that I find enjoyable. Whether it's rock, blues, hip hop, country, etc. If I like the way it sounds, then I will try to perform it."
Writing and performing his own material, he describes the creative process as "coming in spurts." 
"I'll sometimes have a chord progression that has been sitting around for a while and when inspiration hits, I will develop a melody along with some lyrics and try to grow something out of it all," he says. Sometimes it's the other way around. He'll have a lyrical idea that he's been holding onto for a while and he'll just develop a song around a single idea. 
"I believe that songwriting is an ongoing process," Burke says. "You can come up with the bare bones of a song but it will evolve over time. I never really think a song is completely 'finished'; just merely growing up over time."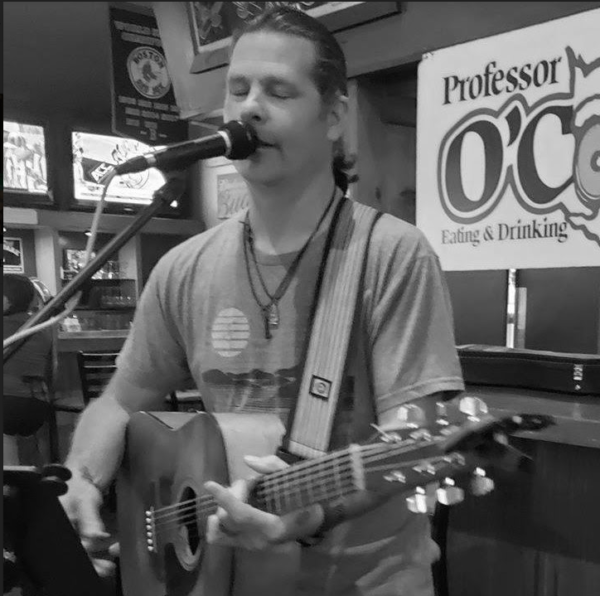 One of his favorite covers to perform is "Hallelujah" by Leonard Cohen: "People love that song and when you can hear your audience singing along to the chorus of that song, it's pretty magical."
Burke says he loves engaging with audiences: "When you can get your audience to bop their heads or sing along with a song you're playing, it's a pretty rad feeling. I think music should be a shared experience; not one where there's an artist and an audience with a line dividing 'me"' from 'them.' Stories, anecdotes, humor, and displays of the human side to me, I find, often help me and my audience have a better time."
Over his 30 year span of playing music, Burke has performed with a number of bands. Most recently he's played with  4 Asses and a Mule, based out of Greenville. "I've participated in some duo stuff over the years too," he adds. "Also, Back Pocket Buddha was the name of my most recent project and those guys involved are still part of my musical life. I just kept the name for myself because I love it so much."
Burke is a fixture in the local music community, hosting open mics. "My goal for open mic is to get the greenest musicians to step out of their bedrooms where they've been practicing and perform in front of others while at the same time having the most seasoned musicians performing as well," Burke explains. "I make it a point to foster a community of support and encouragement for all that attend and participate. If you scare the newbie, they may not come back, and we can't have that! I am also so impressed with the level of talent that I've seen around here. There are tons of really talented musicians that are performing practically every night, and I'm grateful to know them and call them friends."
A current project is in the works and slated to be released in 6 to 12 months. Burke is recording with friend Chuck Phillips, at Edgewater Studios in Washington, NC.
Back Pocket Buddha can be seen playing all over eastern NC. Follow him on Facebook,  Instagram and streaming platforms like Spotify and iTunes.
• • • 
originally published in the Daily Reflector May 16, 2021