Nauti and Nice: Meet Musician and Open Mic Host, Mark Oliver
When it comes to open mic hosting, Mark Oliver is no average Joe, much to his chagrin. Joe Shingara passed the microphone torch to Oliver at Nauti Dog Brewing in Winterville when Shingara moved out of town.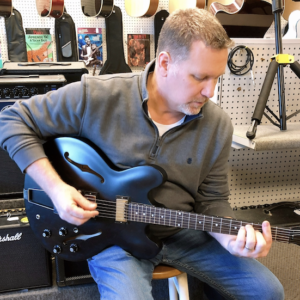 "I just want to be like Joe!" Oliver says. "Joe is a true musician and a great friend.  He established and ran the Open Mic at Nauti Dog Brewery for about a year and I was a regular.  He taught me so much about running sound and purchasing my own sound equipment. He prompted me like so many others to get out of my comfort zone in playing and singing music."
Oliver also considers local musician Brian Burke a mentor and friend: "Brian is an amazing musician and drops in on our open mic when he can.  He plays but I know he is also checking in on me to make sure I am good."
Born and raised in Roanoke Rapids, Oliver says he grew up loving the Greenville area, visiting relatives and friends who went to school here: "I loved the 'little big town' atmosphere. School brought me here, I met my wife here and we've just never left."
While open mics might be relatively new to him, music is not. He was the youngest grandchild in a large family where music was just part of family culture:  "I grew up in awe of my uncles, aunts and cousins at family 'shin digs,' playing and singing. My father played guitar and mandolin.  He played in bands and with friends in someone's living room on weekends. My grandfather played the upright bass with the 'Red Rock Rangers,' locally featured on Sundays on live local radio playing Bluegrass well before I was born. My uncles played guitar and harmonica. My aunts  and cousins sang like angels and my grandmother would dance and 'hambone' on Sunday evening get- togethers."
Oliver remembers his dad buying a tenor guitar for him when he was 9 at a flea market in Raleigh: "He taught me basic chords but I never amounted to much. I would mess with his old Gibson some over my teenage years and got my first electric when I was 16. I tried to learn from Guitar Magazine but again. never amounted to much. I bought and sold guitars over the years and just never took playing too seriously. My wife bought me an Alvarez about 25 years ago from Blaine over at Greenville Guitars and I've played it off and on ever since."
About 2 years ago at a family get-together his aunt made him promise that he would practice more and play and sing at the next family reunion. His uncles were getting older and she was challenging him to keep the music tradition going in the family:  "My sweet Aunt Betsy!  We lost her a few months later. All this with encouragement from my wife prompted me to start taking guitar lessons. That's when I met Frank Jones with Guitars Unlimited and he introduced me to open mics and this amazing music community in eastern Carolina."
Oliver explains that he never sang publicly until his first open mic. "During the lockdowns involved with COVID my wife took an interest in playing and I started singing more while playing with her.  Our times in our music room with just her and I are my favorite!  She is so supportive of me and my madness and is getting really good!"
Concerning his own style preference, Oliver says he gravitates to music that strikes an emotion: "My favorites are those that remind me of personal experience and hit on things that have happened in my life. I love learning songs that remind me of my wife."
One of his favorite songs to perform is his wedding song,"When You Say Nothing At All" by Keith Whitley. Another is "Ocracoke," written by Tim Meineke. "When Tim passed, my guitar teacher Frank Jones, who played regularly with Tim, asked me to learn "Ocracoke" and perform it with him as a tribute to Tim… I love this song!"
Music interjects itself in his life, and the other way around: "I lost my mother recently to dementia.  She loved to sing as I played old Hank Williams kind of stuff…. Got some really good memories with her thanks to music."
Oliver recently celebrated a birthday and how did he spend it? At two open mics, at AJ McMurphy's and the Buccaneer: "My wife and I spent the night surrounded by our music friends."
Open mics at Nauti Dogs are like the family get-togethers centered around music that he remembers from growing up: "Everyone is so supportive of each other–it's an atmosphere that I feel eases the tension of standing in front a microphone for the first time or trying a new song for the first time. For the established musician I try and adjust house sound to their liking to be something that can be recorded and used to promote themselves. The lighting is great and such a warm atmosphere. It is just a laid back good time!"
What advice does Oliver have for musicians or wannabes? "For the first timer, if there are nerves involved it's like ripping the band-aid off… just do it.  You are going to make mistakes and that is okay!  There are open mics all over town and the surrounding area. If you choose my open mic please see me and maybe I can get you paired with someone to do a song or two to build confidence if you like. Find the venue that you are comfortable at. Open mics around town are not competition amongst their hosts. We all support each other and you!  Maybe visit a few different open mics and find the ones you may be the most comfortable to perform for your first time before actually doing it."
The Nauti Dog Brewing Company events are held every other Wednesday from 7-10 and are posted on Nauti Dog's Facebook page the Monday prior. The next open mic is on April 6. Oliver recently started a Facebook group called Nauti Dog Open Mic Memories to share video and pics from open mics.
• • • 
Originally published in the Daily Reflector March 26, 2022.