Jason Patterson Rides a Rock 'n Roller Coaster of Rhythm
Long hair flails in weightless, suspended animation. Drumsticks are wielded like magic wands. Cymbals reflect a spectrum of stage lights, completing the surreal, fierce image of Jason Patterson commanding the stage from his drum throne.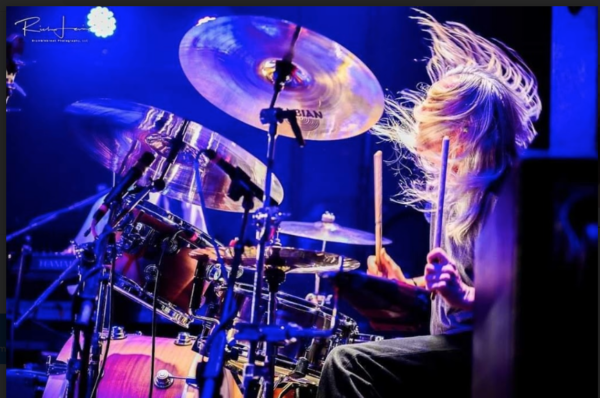 Yet, this serious rocker who has toured international-ly is one of us, raised in Farmville. Locals may recognize him as a member of the Southern rock band Nantucket; the Wannabees, a cover band out of New Bern; and Tuesday's Gone, a Lynyrd Skynyrd tribute band based out of Raleigh.
While his family was not from Farmville originally, Patterson has longstanding ties to the community."My father was in textiles and worked for Burlington Industries back in the 50s and early 60s," he explains. "He was hired as part of a logistical team to open up a new textile plant in Farmville called Collins and Aikmen."
The family moved to Snow Hill from Graham, NC before settling down in Farmville. "In Snow Hill is where I became aware that I really enjoyed music and all I wanted to do was play some drums," Patterson says.
The youngest of three, he often went with his older sister to her friends' houses to play their drums. The mother of one of the boys told his Mom, "You know…to only be 5 years old, he actually can really play."
His parents gave him a toy set of drums when he was 6. "I destroyed those within a year," he says. The family moved to Farmville in 1967 when he was in second grade. "In 1968 for Christmas my parents bought me a real set. I am sure their regret was apparent as I started bashing on them at 4:30 am!"
His older siblings kept him in touch with the music scene, from the Beatles to Chicago, Cream to 3 Dog Night: "I was able to listen to all that stuff and could play along with those records." 
"I've always considered myself a rock drummer," Patterson says. "But I also appreciate a well played country or soft rock tune. There is an art to it!"
He remembers the advice of one of his talented drummer friends, Rod Morganstein of the Dixie Dregs: "He said 'Don't be a fusion snob. Just because it doesn't have a hundred fills per measure doesn't make it a lame tune. You should be able to play "Back in Black" by AC/DC just as well as "Carolina Girls" or a Rush track.'"
Sometimes musicians just need a "lucky break" in their careers, and Patterson literally had just that, when Danny Lupton, the drummer for 10th Avenue, broke his hand in 1979. "They needed a fill in for about 2 months," he says. "From there I was able to be seen and heard by some of the other established local bands. For some kid  barely 19 and never had played out of Pitt County, being on stage with some guys that had already been at it for over 10 years was a big deal."
After 10th Avenue, Patterson joined Greenville's own, Pegasus: "I had seen those guys when I was 14 at Wright Auditorium with Singletree. I had no idea that 6 years later I would be on the road with them."
Another band he toured with was called Thrush, a 4-piece based out of Jacksonville: "Like Pegasus they were mostly a cover band but also wrote some original material. Back in those days it was 'Man if we could just get a record deal all our dreams would come true!'"
In 1986 Patterson joined North Carolina rock legends Nantucket: "Again a band that I had seen as a kid and here I am on stage with them. I had met and became close friends with their original drummer Kenny Soule back in 1981. Kenny's style was a huge influence on my playing." Soule's advice was,.'Sometimes it's not what you play but what you don't play that the song needs.'" 
Patterson toured with Nantucket until 1989 when he met with Audley Freed and Robert Kearns who at the time were playing with North Carolina power house Sidewinder, a band locals may remember from the Attic in the early '80s.
Patterson, Freed, and Kearns decided to start a new band from scratch, with all original music. "We all quit our current bands, got day jobs and found a cheap place to live and a cheap place to rehearse," he remembers. After about a year Pee Wee Watson joined them and they came up with the band name, Cry of Love.
Cry of Love, described by Patterson as a "simple blues-based rock band with Bad Company/Skynyrd/Humble Pie/ZZ Top influences," was signed by Columbia records.
Their first CD, Brother, was released in spring of '93. The first track, "Peace Pipe," went to Number 1 on the Album Oriented Rock Radio stations. Success in the charts led to international touring opportunities with Robert Plant, Aerosmith, and ZZ Top. "Cry of Love shared the stage with some of the biggest bands in Rock," Patterson says. 
Evolving tastes and changes in the music industry led to the disbanding of Cry of Love in 1998. But that didn't silence Patterson's drums. He's continued to be a part of a number of successful bands, along with developing his own landscaping business.
These days, as pandemic restrictions ease, Patterson can be seen at the Ritz in Raleigh with Tuesday's Gone, at the occasional festival with Nantucket, or at a local bar with the Wannabees. Music may have him on a rock 'n roller coaster, but what a ride.
• • • 
originally published in the Daily Reflector March 27, 2021