Ruth Wyand is a Mighty Tribe of One: An Intimate Concert at the Turnage Theater
Somewhere in this world is an inner circle of close acquaintances that might be invited to Bonnie Rait's house, or to Lucinda Williams' back porch for a private performance. Maybe this time of year the friends would sit around the fireplace sipping favorite beverages, or gather around a fire pit with marshmallows roasting on a stick. In any case, they'd be transfixed by the lady troubadour's voice. By her fingers dancing effortlessly over guitar strings like she has magical command over them. She'd be dressed unpretentiously. They'd laugh at her stories and breathe deep sighs when the lyrics to her original songs settled in their spirits.
And that's the feeling I had Friday evening, soaking in Ruth Wyand's performance in the gallery of the Turnage Theater in Washington, NC.
My husband and I arrived early, despite forgetting about a road closure between Greenville and Washington. But arriving at the Turnage Theater early is just an invitation to explore the historic charm of the place. Vintage pianos flank the wide hall that is strategically peppered with costumes and curiosities. Dorothy's ruby slippers, Snow White's gown, an elaborate whirligig. The ornate brocade curtains, the art and artifacts; they all roll out a red carpet, welcoming visitors to step back in time. Maybe it really wasn't a simpler time, but through a contemporary lens, it sometimes seems so.
While Ruth Wyand lives in the Outer Banks, she performs several times a year in the surrounding area. I'd previously had close misses when she played in Bath and then at Smoke on the Water in Washington back in October. I was determined to take advantage of this opportunity, in spite of temperatures taking a dip. 
A modest number of chairs were assembled in the gallery and we claimed a spot on the second row. Wyand was already set up with an unassuming configuration of two instruments and a stand fashioned out of a suitcase. Another suitcase served as a display for CDs and stickers.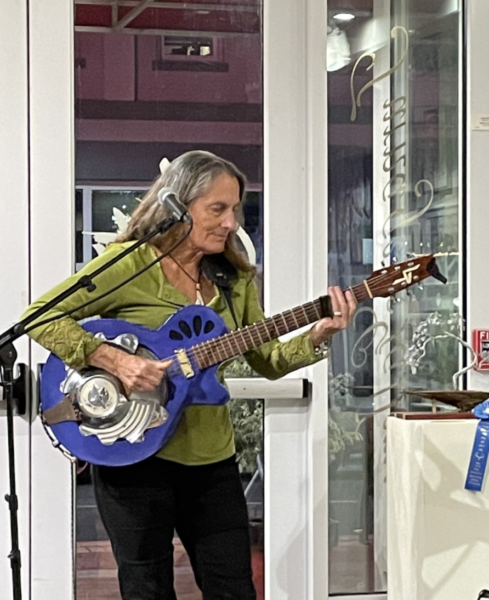 Her long hair, streaked with brown and silver,  hand crafted pendant, and cowboy boots hinted at an independent spirit that her song lyrics confirmed.
She opened with "Nobody's Fault But Mine," with lyrics talking about how Mama taught her to pray so if she dies, and her soul is lost, "it ain't nobody's fault but mine."
Between songs she mentioned that one of her favorite guitar players was Doc Watson, and she learned the song "Windy and Warm" from him.
"Mama's Got the Blues" was a song she wrote that was used as a theme song to a festival. "Ain't nobody happy when Mama's got the blues," she sang.
As each song demanded, she switched instruments. She played her guitar with a pink thumb-pick, employing her trademark finger-picking style. Her slide or resonator guitar was a shock of purple and silver that stood out against her lime green sweater like a morning glory in full bloom. She slid her clad pinky across the strings with deceptive ease.
"My favorite thing is to read biographies about musicians, especially women musicians," Wyand said, introducing a song she wrote that was inspired by the proprietor of Mahogany Hall, the finest establishment in town. Her song was called "Madam Lulu's Place."
"Is that a Janis Joplin song?" my husband whispered to me when she began singing another. I was not cool enough to know, but I could see why he asked, due to her delivery. A quick search revealed it to be a Jimi Hendrix song, "The Wind Cries Mary."
Demonstrating her versatility of style, Wyand launched into an instantly recognizable instrumental of "When I'm 64." Afterwards she asked the audience if anyone had seen the Peter Jackson Beatles documentary. She suggested we all go inside the theater and watch it together. "It's several episodes," my husband chimed out. "I don't have to be anywhere until tomorrow morning." she said, smiling.
She talked about a fingerstyle competition she entered, coming in third place the first time she competed. She won it the second time with "Wandering Man Rag." She remembers sitting backstage, waiting for it to start, and there were "19 guys and me." The story highlighted an apparent reality: that females with her degree of instrument command are not commonplace. 
"People always ask me what kind of music I do," she said. "It's American roots music…blues, jazz, country."
"Anyone ever hitch-hiked in their misspent youth?" Wyand asked, setting up a song inspired by her own adventures catching a ride with a female truck driver to New Mexico. She sang that she was "One step from knowing myself, but knee deep in doubt / One step from being a fool, two steps from finding out."
She delivered "Today is the tomorrow I feared," a song that couldn't help but strike a chord with any musician facing a health crisis, inspired by a friend of hers who had a brain aneurysm and lost his ability to play guitar, and her own struggle with a collapsed vocal cord. "It's about waking up and the music being gone," she said.
Wyand closed her Turnage Theater living room performance with "This Little Light of Mine" and we all sang along, many of us through cloth masks, a sign of the times. But as we walked to our cars, I expect we were all wondering what we had done right in our lives to deserve such an inner-circle performance.
• • • 
Originally published in the Daily Reflector January 8, 2022.