John "Singer" Benson: A Grateful Guitarist
"He could make a good living doing Grateful Dead tribute shows."
Someone said it aloud where I could hear it, but many more of us had the thought bubble over our heads. Because….look at him…..he's eastern North Carolina's answer to Jerry Garcia.
But thankfully, the singer/songwriter/guitarist plays an even more convincing role: himself. A frequent performer in local restaurants and breweries, Benson plays what the people on Pebble Beach and the Umbrella Market like to hear: James Taylor, Chris Stapleton, John Prine…and yes, Grateful Dead…and a who's who list longer than his hair. But he doesn't stop there. His original music echoes his personality: easy to listen to, full of story and cool riffs.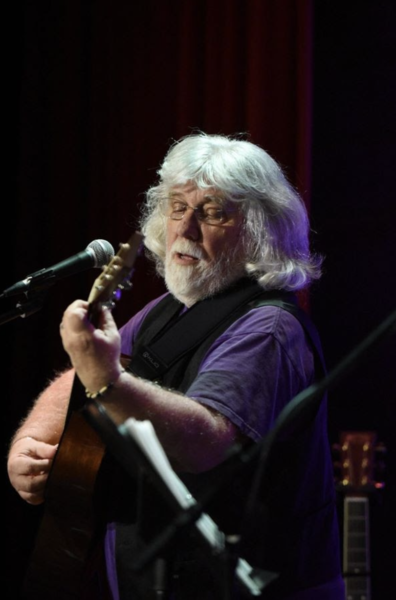 "I've been playing and singing since the '60s." Benson said. He started out as a lead vocalist and an occasional drummer in bands in Jacksonville, NC. The most successful of those was Grapes of Wrath. 
"We were too young to legally play the clubs, but the owners all looked the other way," Benson remembered. "We played from Jacksonville to Atlantic Beach." They were known for their harmonies on songs by bands like Three Dog Night, the Beatles, and the Yardbirds.
Benson started playing the guitar to accompany himself around 1968, a year before he joined the Navy. "I am self-taught," he said."I was a street musician while I was stationed in California. I would take leave and just disappear into San Francisco. You could usually find me on a corner around Ghirardelli Square."
Later, while stationed in Nevada, he played small clubs in the Lake Tahoe area and also played at California Jam II, a 1978 music festival…sort of. "I was walking around at the rear of the concert," he said. "I found  this guy sitting on a pile of his homemade flutes. He was playing "Norwegian Wood" by the Beatles. I started jamming with him and several other musicians found their way to our flute pile and we all played for a couple of hours. We had a pretty good crowd of listeners while we played."    
But one of his most memorable performances was aboard the navy ship USS Midway off the coast of Vietnam, where he was in service. "The guys wanted me to play my guitar for Christmas and I was told I could, as long as it was Christmas music. That's when I wrote my first song, "Old Saint Nick Had a Guitar Pick," he remembered. "I still sing it today."
He also remembered getting off a train in Yokosuka, Japan, during the height of popularity of Peter, Paul, and Mary and going to a pizza parlor that played American folk music: "The Japanese were wearing red and white vertical striped shirts like the Kingston Trio, and straw hats. The Japanese people loved American folk music and sang all the words to the songs phonetically."
Eventually the owner found out Benson and his friend could play all those songs and asked them to perform for them. "My first international gig," he said.
Benson left the Navy after serving 7 years and lived in the Bay area. He worked in Silicon Valley and played small clubs for about a year. "I decided it was time to head back to NC and came to Greenville and started playing places like the Tree House and the Rathskeller," he said.
Dan Bacon created an open mic night called "3 Chords and a Song," and Benson remembered it as one of the first open mics in the area."I ended up being his partner in '3 Chords,'" he said. "Ours was different as you had to play your own songs, no covers."
Tim Meineke started coming to the open mics around 2013 and became a regular with such original songs as "Ocracoke." Benson started playing along with him and eventually it turned into a duo called the Rusty Bucket Boyz. 
Benson explained the origin of their band name at a February 2020 Whirligig performance. "We're obviously rusty, right?" he said, addressing the appreciative audience. "It was on our bucket list to do this….and we're obviously not girls. We put the 'z' on the end of it because it's cool."
Sadly, Benson lost his bandmate and friend when he passed away unexpectedly on February 5, 2021.
"What was so cool about the 'Boyz' was we were around 80% original music, both Tim's and mine, and people liked our stuff," Benson said. "We were both very proud and excited about that. I've left the 'Rusty Bucket Boyz' page up on Facebook as a kind of tribute to Tim. There are lots of videos of us there."
Another longstanding collaborator with Benson has been Landy Spain. They've played as a duo off and on since the '90s, now calling themselves the Ol' Gringos. When they play songs together like "Last of My Kind" or "And It's Still Alright," Benson's head has an optimistic uptilt to it, shaking lightly to express himself as he sings and plays arpeggios. Spain, with his seasoned poker face, intuitively weaves notes around Benson's. The result is a blood-pressure reducing, soul-soothing musical massage.
When Benson takes on a solo rendition of "King of the Road," he channels Roger Miller's vocal energy, encouraging audience participation with the iconic snapping of fingers.
For Benson, playing and singing is just something he has to do. And he continues to work on his craft: "Here is a secret…just learning new songs is not improving yourself…you have to learn and practice new rhythms, styles, finger position and transitions. I try something different every day."
"John Benson is very, very good," one of his fellow musicians said about him. "Another guitarist and I have this running joke… he'll say, 'Wow, John is really good,' and I'll say 'Yeah, I hate him too.' And then we'll laugh and one of us will say, 'Well, at least it's complimentary hate.'" But he went on to say, "Seriously, he's a top-notch musician. Of that I am Grateful Dead Certain."
• • • 
Originally published in the Daily Reflector September 4, 2021