Sue Luddeke Creates Art for the Eyes, Ears, and Heart
Sue Luddeke is an artist, but her canvas isn't just brushed with paint. It's also plucked, strummed, and vocalized.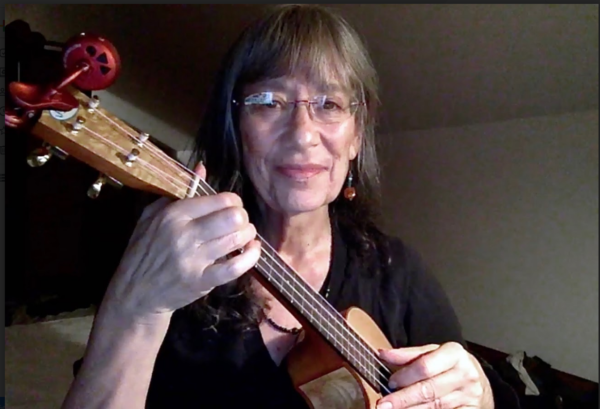 "I have always felt it necessary in my heart and soul to make both visual art and to create music," Luddeke explains. She graduated with an MFA in painting from East Carolina University in 1991 and has been teaching art there ever since. But she is also a fixture in the local music scene for several memorable music collaborations. How many people can say they are a Lemon Sister? Or part of an "Angelic Choir"?
Growing up in metropolitan cities such as Washington DC, where she was born, and later Cincinnati, Boston, and New York City, museums were "sacred sanctuaries" for her.
Teaching art was also her way to make a living, as she is not a classically trained musician, other than some classes here and there. "I was drawn to classical technique in art and remained an ear trained musician," Luddeke explains.
But Luddeke had a strong connection to music from birth, as both of her parents were musicians. Her mother studied opera at the Conservatory of Music in Cincinnati and her father was a fan of jazz, singing in the genre of Frank Sinatra. "Needless to say, my house was filled with song," Luddeke remembers.
Luddeke, her sister Nancy, and their parents enjoyed singing in four part harmony. Her father would teach her songs that she would perform for guests. "The first song I remember him teaching me was Mr. Sandman."
Family time included not only singing, but listening to classical, jazz, and show tune records. "It was later that I added folk tunes and then rock and roll to my repertoire. My songwriting is very much influenced by these genres," Luddeke says.
When she was 16, she got a classical guitar and a Joan Baez songbook, and that started her emergence as a folksinger. "I actually started writing poetry," she remembers. "That was how I came to songwriting, when I realized my poetry could be sung."
Guitar and ukulele are her primary instruments, including the traditional ukulele and guitalele, a 6 string instrument, like a guitar, but tuned in the key of C like a ukulele. "I do not read music other than chord notation," she explains. "I like to improvise on flute."
Luddeke considers herself "musically eclectic." She loves "creative, soulful music with rich and deep content" and music that is "inspiring or heart-opening." She gravitates to jazz standards, Bossa Nova, folk, old rock and roll, and singing harmony in most genres.
She sang with Mike Hamer in the Lemon Sisters and the Rutabaga Brothers for 30 years and was a singer in his original band, The Rhinoceroses and the Angelic Choir. Luddeke was also a part of  the Zen Revelators, and is featured in a video performance of them performing "Fever," in a Halloween concert at R. A. Fountain General Store that was filmed by Jake Postma and posted on his YouTube channel. Also in the band (and video) are Mike Hamer, Jim Watson, Bob Clyde, David Turner, Bob Aiken, and Bill Redding. 
Luddeke and Hamer sang duets at various venues over the years, including annual Christmas concerts at R. A. Fountain General Store and at soup kitchens at St. Gabriel's church when it was on West Fifth Street. 
Her most recent band, which features her own original music and compositions, is August Beauty and That Fool Moon. "This band includes my colleague in Women and Gender Studies at ECU, Karin Zipf, on fiddle, Jim Watson on piano and accordion, and Bob Aiken on drums," Luddeke says.
But writing and recording songs may be where she is most comfortable. "I got serious about it after The Lemon Sisters and the Rutabaga Brothers. By that I mean I have been writing them since the 70s but now write pretty prolifically, depending on how busy I am with painting."
She starts with an idea, something she is working on or dealing with in her life, she explains. "I maybe come up with a few lines and stop…then I compose  a melody and fit the words to the melody. Then I come back and add a chorus or break then I go back and finish the song. Words usually flow easily."
Wishing she had access to more complex chords by being a better guitar player, Luddeke says she "makes it work," adding, "I believe to a great extent that it's not what you do or your limitations that define the success of a song, but the passion and clarity and sincerity…. that make the magic happen."
"My music is mostly about love, and about spirituality in various forms. Rarely it is also political," Luddeke said.
Recently she has been composing songs related to chapters in the book Women Who Run with the Wolves: Myths and Stories of the Wild Woman Archetype. Luddeke has also written a song this year about the pandemic… and one inspired by Hieronymus Bosch's painting "The Garden of Earthly Delights." 
Luddeke has stayed busy during the pandemic by illustrating a children's book for adults that can be read to children. "It is a Cosmic Dr. Seuss rhyming book with 33 illustrations, and the framing and telling of the words is as important as the message."
How does she approach teaching, painting, songwriting, and performing? The answer is found in her own words: "with passion, clarity and sincerity."
• • •
originally published in the Daily Reflector December 27, 2020