Mamie Dixon: Versatile and Resilient
Is it easier to fiddle a devil down to Georgia or figure out what to do with a drunken sailor, as a favorite Celtic sing-a-long challenges? The answer may depend on which side of the Atlantic you're asking, but in either case, I bet Mamie Dixon could do it. And then she would reduce us all to mush by playing a classical piece like Massenet's "Meditation from Thais."
Picture the different styles of local music in a Venn diagram of overlapping circles depicting classical, Celtic, folk, gospel, bluegrass and so on. Where the circles intersect, we find what they have in common, and it's Mamie Dixon. We can't even describe her as "Violinist, Mamie Dixon," even if the fiddle is what she is most known for, because if it has strings on it, she plays it. 
Through a lifetime of achievement in music, but especially in this difficult year, she has distinguished herself by her versatility and resilience. Even the dreaded virus couldn't keep her down for long. 
Dixon's earliest memory of music is her father trying to conduct the family as they battled each other with flutes, violin bows and a piano accordion: "His visions of an affectionate Italian Family Band never quite materialized," she says.
Coming to Greenville from Shreveport, Louisiana in 1971, Dixon attended ECU on a "special talent" award. She holds the distinction of earning the first masters degree in music awarded from ECU in 1976. As she tells it, she has been performing, arranging, and teaching music ever since.
Dixon says that she satisfies her need to play classical music by performing with a string trio called "Strings and Things." The group is composed of Suzuki violin teachers that were founding instructors of the Greenville Suzuki Program: Jon Shaw, Leona Love and Dixon. "We all play strings," she explains, "and occasionally the odd guest joins us on 'things'; a keyboard, recorder or some other instrument."
She also plays with the Back Porch Players, a group that blossomed from Monday nights' St. James Jammers ensemble in Greenville. John Bradley, Jim Joseph, Leslie Bowman and Dixon play folk, gospel and old-time music with a lot of vocals. "I provide the bass line on my Octave mandolin, a challenge after playing melody for most of my life," she shares."Jim and John both sing and play guitar- notably John's fabulous Redneck Guitars which he makes in his own studio right here in Greenville."
Dixon formed the band Twisted Knot after listening to Celtic music on the radio and finding it a "refreshing change" from the classical music she had been playing most of her life. "I love the liveliness, vitality and immediacy of Celtic music." she explains. "Twisted Knot often opens a set with 'Scotland the Brave,' and we can feel the audience enthusiasm kick in – it's like hooking a fish and reeling it in. Only it's happy to be caught."
In addition to Dixon, the band includes Jim Joseph, Rebecca Hall, Sylvia Bjorkman, and Catherine Walker. "Twisted Knot plays a wide variety of music styles," Dixon says,"but we are most drawn to the soulful sounds of the British Isles; the songs of Scotland, Ireland and Wales." The group likes to mix in traditional tunes from other countries and cultures. "We love Breton, Klezmer, Appalachian folk melodies and sea shanties, and mix them up in our playing."
Twisted Knot was scheduled to play on St. Patrick's Day at R. A. Fountain General Store; the poster was already designed and printed up by ECU faculty member Craig Malmrose. Then the event fell victim to COVID cancellation. "Music is about relationships between people and our instruments and how we share," Dixon says. "We become close like family, and the separation has been long, hard and painful."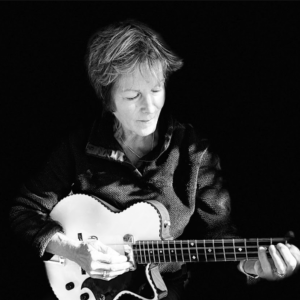 The pandemic has had an enormous impact on most musicians due to performance cancellations, but it really hit close to home for Dixon. "I am one of several unlucky musicians that caught the vile virus despite our heroic measures to social distance and maintain crazy hand hygiene," she recounts. "It knocked me off my feet for three weeks, and I could barely lift my instruments for another month."
She explains that she has recovered and considers herself fortunate to be back playing and practicing with her music family, but adds,"We practice outside now and are yet to perform to an audience." Lately she says they've been known to show up under the FROGGS shelter on the greenway for spontaneous musical gatherings.
Dixon's impact on the community is felt by many. "I feel very blessed to have shared music making and teaching in eastern North Carolina for over 40 years," Dixon says. "As one of the founders of the Pitt County Schools orchestra program, I love to run into former students who introduce me to their young children presently studying music because of the experience their parents enjoyed."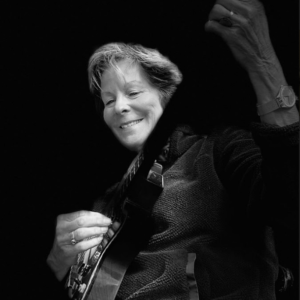 Twisted Knot always ends their performances in a traditional Celtic way to say farewell with the song "The Parting Glass." I expect the lyrics express Dixon's wish to her fellow musicians until they can perform together again: "So fill me the parting glass / Good night and joy be with you all."
To get a taste of Dixon's music, check out performances on Youtube of Twisted Knot Live at the Whirligig Stage, and Twisted Knot at the Turnage Gallery.
• • •
Originally published in the Daily Reflector November 1, 2020
Date(s) performed at RAF