RaSheeda Waddell's Path of Politics, Pageantry and Praise
RaSheeda Waddell's path to performance prowess is lined with politics, pageantry, and praise. And somehow, thankfully, that led her to Pitt County. The performer and local educator not only shares her love of music with students, but with the community, as she sings with other local musicians every chance she gets.
"I sang my first solo at the age of 2," she remembers, incredibly. "It was the song 'It's Me, It's Me, It's Me, Oh Lord, Standing In The Need of Prayer.' I remember singing the solo and even what I wore."
She explains that she comes from a musical family. Her mother, a classically trained pianist and organist, has been the musician at her home church since she was 12 years old. Her father was a roadie for funk musician George Clinton, and worked with several iconic bands in the Piedmont Triad area. "I've spent most of my life trying to live up to the family reputation," Waddell says. "I was always surrounded by good music of all kinds around me." 
But pursuing music wasn't her original plan. She'd been preparing for a career in politics until the summer before her senior year in high school. "After attending the NC Governor's School that summer for music, I decided that I wanted a career that would bring people together rather than separate them," she says.
She hadn't planned on participating in pageants either, until she watched the talent portion of the Miss America Pageant in 2001 and thought, 'Wow! I bet I could do something like this!" She said, "That kicked off my quest to participate in pageants." And she brought home a long list of pageant placements.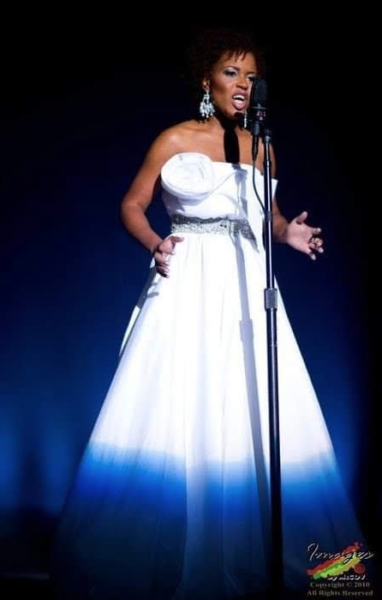 "Participating in pageants really helped me with public speaking skills and thinking 'on the spot,'" Waddell said. "It also allowed me a bigger platform for volunteerism and sharing my gift of music."
Her most memorable pageant stories involve her grandparents: "My maternal grandmother, Cora, was born and raised in Staley, in Randolph County. When I decided to compete, she didn't think that I would be selected because of the county's history. I've never been so glad to prove someone wrong; I was crowned the 50th Queen of Randolph in 2005 and was the first black Miss Randolph County."
Later, as Miss Central Carolina 2008, she was able to take her paternal grandparents to several events at the NC Azalea Festival as a member of the Queen's Court. "They were born and raised in Wilmington and raised their families there after my grandfather retired from the military," Waddell says. "Being able to represent them and have them there was a big deal for me." 
Although her degrees are in classical voice (her masters is from East Carolina University), Waddell calls R&B/soul her "bread and butter." She enjoys singing traditional gospel and jazz standards with the Emerald City Big Band and other musical friends, such as Steve Creech.
Steve Creech credits Waddell for not only being an outstanding singer, but an accomplished, versatile musician, handling classical, sacred, soul, blues, rock, big band, and jazz equally well. "She adapts the respective song to her unique style as she interprets the music," he says. "Her creativity captivates both her accompanists and audience. I enjoy accompanying her because I'm never sure how she will interpret a particular song and that makes the tune engaging while encouraging  creativity on my part since I try to complement her arrangement.  Her experience, confidence, personality, and appearance command respect and attention of her listeners and fellow musicians."
A Pitt Community College faculty member, Waddell directed Elements of Praise, a gospel ensemble at Pitt Community College, for about 7 years and is currently in an advisor role. "I do get to pop in and guest conduct and sing with them whenever I am able." Elements of Praise and another group at PCC, "Bulldog Beat" plan to begin rehearsals later in the semester. "I'll be there to sing with and support my students however I can," she says.
Lately she has enjoyed revisiting hymns and traditional songs. "I am a 4th generation Methodist, so I grew up singing hymns," she says. "Those songs have carried me in adulthood, especially in these unprecedented times. Sometimes I just like to go back to my roots and sing songs that are fundamental to my faith and to my musical experience."
With Valentine's Day on the horizon, RaSheeda Amour Waddell says she is reminded how much she "loves love and love songs." But how could she not, with a middle name of "Amour"? 
"My mom says that she gave me a stage name when I was born," Waddell explains. And that name is coming in handy with her new website, loverasheeda.com, which she says is a play on her name.
A couple of years ago her aunt told her, "Someone needs to hear your voice besides us. The world needs your voice." And that message has resonated with her, making her feel as if her loved ones who have gone on are passing the torch. "It's my time to run my leg of the race, so I'm gearing up for just that! I plan to release some covers and original music by spring. Even with the pandemic still hanging over us, I look forward to sharing my music with a wider global audience."
Waddell will be singing some of her favorite R&B/soul tunes and jazz standards with Jim Gilliam at Greenville's Wasabi 88 on February 14. On March 10, she'll be giving a performance lecture as a part of Martin Community College's Arts & Culture Enrichment Series. 
And when you see her, be sure to say, "That's Amour!"
• • • 
originally published in the Daily Reflector February 7, 2021