The Music Maker Relief Foundation has officially opened its East facility in downtown Fountain, where most days Freeman Vines is at work on one of his guitars, many of which are featured in an exhibit currently showing at the Greenville Museum of Art.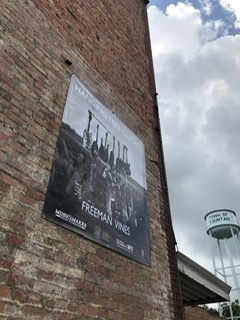 That show is timed to coincide with the publication of a new book by Mr. Vines, Hanging Tree Guitars, with photographs by Timothy Duffy–now available on our e.store. 
The Greenville Museum of Art is finally open for visitors: reservations for 10 or fewer can be made by calling the museum: 252.758.1946. The show has been extended through December 2020.
The Music Maker Relief Foundation is a 501c3 non-profit founded in 1994 by Tim and Denise Duffy "to preserve the musical traditions of the South by directly supporting the musicians who make it, ensuring their voices will not be silenced by poverty and time."
For a few months, Mr. Vines worked in a makeshift studio in the back portion of the Smith-Yelverton building. Music Maker East, in a newly renovated building that was formerly Ellis' Soda Shop, is a welcome addition to our downtown. It has already attracted considerable attention and visitors, including photographers and folklorists from Mississippi, Georgia, Maryland, and France.
The foundation has also worked with local artists the Vines Sisters and Lightnin' Wells.
In February, the foundation hosted a recording session for Fat Possum Records at which several regional gospel acts were documented in studio quality audio and video.
In addition to Wells and the Vines Sisters, R.A. Fountain has presented performances by Music Maker recording artists John Dee Holeman, Harvey Arnold Dalton, and the Carolina Chocolate Drops.