5846 West Blount St, Fountain  
252.227.3586
Carol's Home Cookin'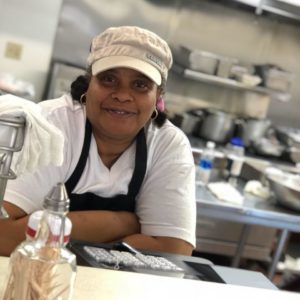 is open Wednesday-Sunday. Excellent hand-patted burgers: cheeseburger with chili, mustard & onions for $3.50.
Daily specials include chicken & pastry on Thursdays. Wood-cooked pit barbecue on Saturdays and sometimes other days. One of the few places you'll find rutabagas. Fried okra available daily.
Excellent homemade soups, too.
Seafood buffet on Fridays is not your traditional buffet. Instead, your order will be prepared fresh, so there's a bit of a wait. Shrimp, for example, comes fried crispy or regular, or sauted. After a little while, someone will come by to see if you'd like another order. And they'll keep coming back till you say stop. Same holds true for vegetables & fish, flat bread, hush puppies & tea.
Sunday buffet is worth the drive from most anywhere if just for the ribs.