Mac "Bear" Hodges Festival Park
119 Water Street, Washington, North Carolina 27889
Located along the waterfront and bordering historic downtown Washington, Festival Park is a serene and family friendly place of gathering. Named after late mayor Mac "Bear" Hodges, the open, grassy area boasts a beautiful view of the Pamlico River, a nautical themed playground for children, two gazebos that often host live music, and a boardwalk from which visitors can watch the boats come and go and see turtles and water fowl. The swings and benches positioned along the waterfront walk also make a wonderful spot to sit and eat ice cream from Scoops, which is located beside the park, or watch the sunset over the water.
The park hosts a variety of festivals throughout the year. A few annual festivals that are local favorites include the Summer Festival, the Wildlife Arts Festival, and Smoke on the Water.
Festival Park's proximity to the shops in historic downtown Washington only make it a more appealing place to visit. Many people enjoy taking a walk along the waterfront after doing a bit of shopping in the variety of stores, ranging from antique stores to shops featuring work from local artists, found downtown.  It is common to find locals and tourists alike eating lunch from nearby Bill's Hot Dogs  at one of the picnic tables or on a blanket on the grass.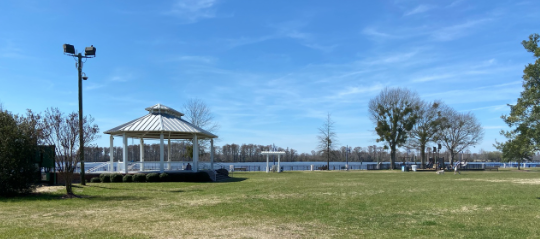 On a sunny day, one is also likely to find almost as many canine visitors as human. Festival Park is amazingly dog friendly, with dog bowls and water fountains positioned at the perfect height for dogs to quench their thirst located in several places around the park. The staff who maintain the grounds also all carry dog treats in a variety of sizes to offer to man's best friend.
This is a free-admission, open-air park that never closes.
—Charlotte Grimes
March 2021