Upcoming
August 26, 2022
UNC vs. Florida A&M University football game
8 p.m. at Chapel Hill
B-1's legacy will be honored at half-time, during which FAMU's renowned band will perform, with B-1 family members as special guests
Past events
August 12-14, 2022
Greensboro, NC
80th reunion
April 21, 2021
The North Carolina Museum of History dedicated this Zoom presentation on the history of B-1 by Alex Albright to Calvin Morrow. It was part of the museum's "Answering the Call" of lectures on World War II and can be viewed here.
March 2, 2021
This  Zoom event hosted by Winthrop University's library as part of a series of lectures featured Alex Albright discussing B-1 and his book about the band, and which Eva Roberts, newly hired as head of Winthrop's Department of Design and who designed the book.
August 3-5, 2017
The B-1 reunion in Charlotte included a banquet at St. Mark's United Methodist Church on August 4; St. Mark's is pastored by Dr. Otto Harris, III,the son of B-1 vet Otto Harris.
       On August 5, Calvin Morrow was honored at a public reception at the Levine Museum of the New South. 
May 27, 2017
Historic marker recognizing B-1 installed in Chapel Hill.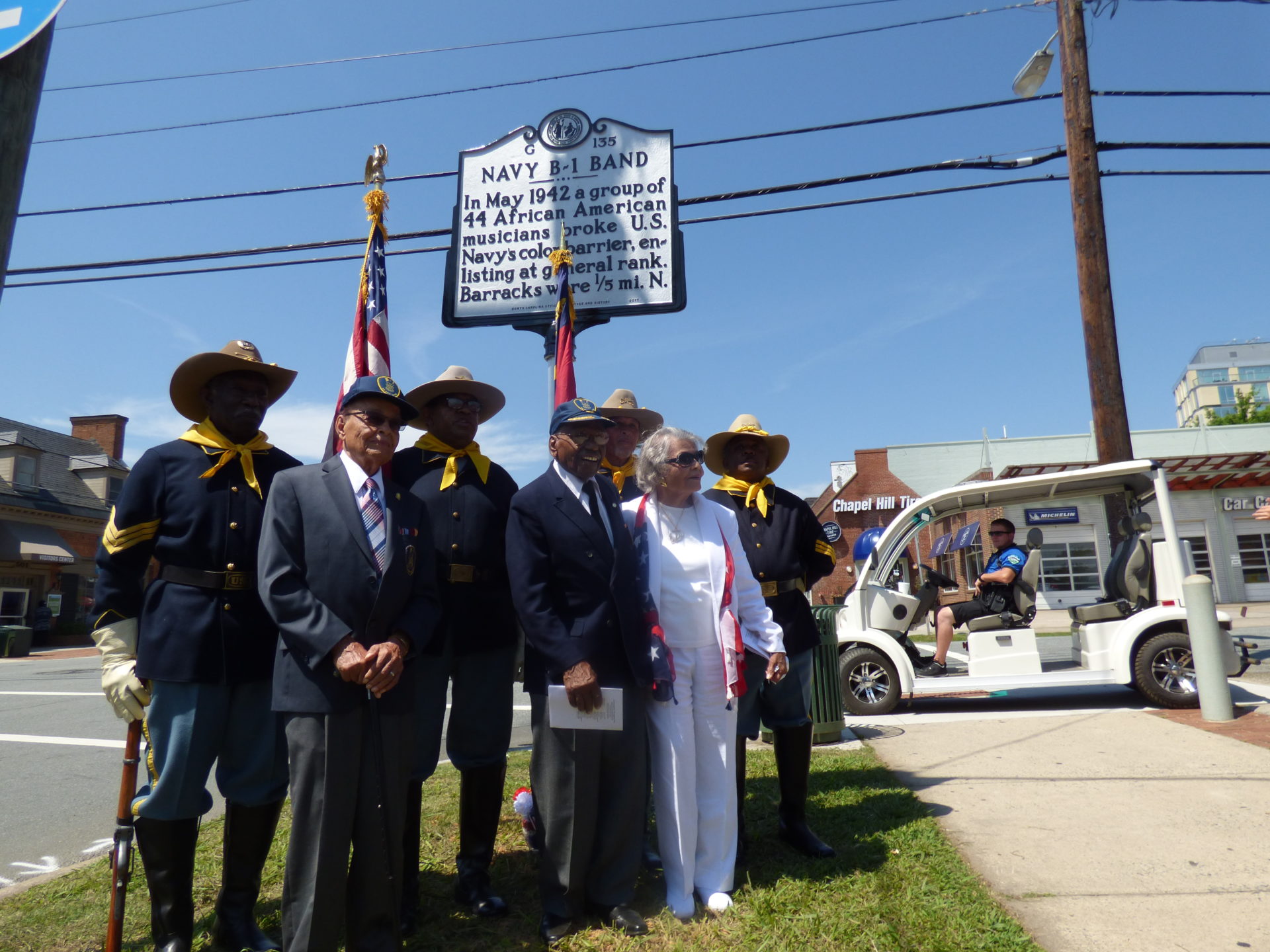 August 5-7, 2016: B-1 bandsmen, their families and friends, celebrated the 74th anniversary of their enlistment in May 1942 as the first African Americans to serve in the modern Navy at rank other than messman. 
As part of this reunion, bandsmen and families met the public at "Keeping the Legacy Alive," at the Hargraves Center.
Hargraves Center, now a Town of Chapel Hill rec center, was constructed during the first months of World War II as a barracks for the B-1 bandsmen, who were attached to the Navy's preflight school on the UNC campus. State segregationist laws, however, forbade the black bandsmen from being housed on campus. From Hargraves, they marched up Roberson St. (crossing Franklin St., where the marker has been installed) to Carolina's campus for work in daily parades that thrilled their neighbors.
In addition, Calvin Morrow and Simeon Holloway were featured guests on WCHL-Radio's "Talk of the Town."
December 10, 2015 
Durham County Library
300 N. Roxboro St., Durham
B-1 vet Calvin Morrow & Alex Albright talked about how NC A & T and North Carolina College students helped integrate the U.S. Navy and the University of North Carolina at Chapel Hill. John Mason, an NCC alum, was scheduled to also appear but was not able to.
August 14-16, 2015
Chapel Hill, NC.
B-1 fellows and family gathered for their annual reunion, this one in remembrance of V-J day and the end of World War II seventy years ago.
March 23, 2015
Warrenton Public Library, Warrenton, NC
Author talked about B-1, The Forgotten First, and how North Carolina A and T and Carolina helped to integrate the modern Navy.
March 21, 2015
Annie M. Brown Building, Ayden, NC
B-1 vet Huey Lawrence was honored with a community service award from his home town of Ayden.
February 14, 2015
UNC-CH, Chapel Hill
An all day event: Adventures in Ideas: North Carolina and World War II
Author talked about B-1 at the popular Carolina series for lifelong learners and K-12 teachers.
February 9, 2015
Beaufort, NC
Abe Thurman talked to county commissioners and others about his experiences with US Navy B-1 Band.
February 7, 2015.
North Carolina Museum of History, Raleigh
Alex Albright introduced and screened "Pitch a Boogie Woogie," the 1947 black cast film made in Greenville, NC, and then talked about the soundtrack band, the Rhythm Vets, which included B-1 as well as Great Lakes trained bandsmen.
      Also attending was Tom "Skip" Foreman, Jr., the son of co-star Tom Foreman.
January 15, 2015
Daughters of the American Revolution meeting at Immanuel Baptist Church, 1101 S. Elm Street, Greenville, NC
Author talked about B-1 and The Forgotten First.
November 11, 2014
Ledonia Wright African-American Cultural Center
Bloxton House, ECU
This Veterans Day program was a luncheon and roundtable discussion about B-1 with author Alex Albright and bandsmen Huey Lawrence and Abe Thurman.

August 24, 2014
Morgan Family Reunion
Trenton, NC
Author Alex Albright talked B-1 history with the family of bandsmam James D. Morgan, Jr.
August 3, 2014
Flyleaf Books, 752 Martin Luther King Jr. Blvd., Chapel Hill
Author and vet Calvin Morrow discussed B-1 and its history at the conclusion of B-1's Chapel Hill reunion.
June 4, 2014
Scuppernong Books, 302 E. Elm St., Greensboro
B-1 discussion, questions & answers, and book-signing, with author, B-1 vet Calvin Morrow, and B-1 family.
Here's Calvin signing another book at Scuppernong Books in December.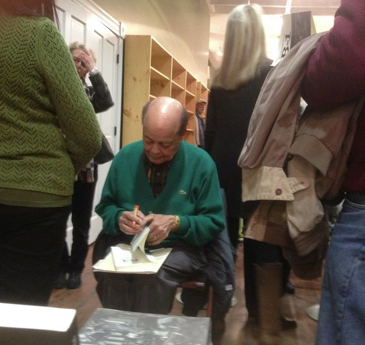 June 2, 2014
Rotary Club, Greenville, NC
Author Alex Albright talked about B-1 to the evening Rotary Club.
April 29, 2014
Craven Community College, New Bern, NC
B-1 vet Abe Thurman and Alex Albright discussed The Forgotten First in Barker Hall, Craven Community College's library.
May 28, 2014
2014 IBPA Benjamin Franklin awards ceremony
Kimmel Center's Rosenthal Pavilion, NYU, New York.
The Forgotten First won the Independent Book Publishers Association's silver medal as one of the three best-designed books published in 2013 by an independent publisher. Congratulations to the book's designer, Eva Roberts, of Indianapolis, Indiana!
January 17, 2014
Doubletree Inn, New Bern, NC
Book signing and reception for B-1 vets Huey Lawrence and Abe Thurman, author Alex Albright, and Tony Moseley, who was the first African-American band officer in the U.S. Marine Corps. Also with jazzmen Buster Williams and Roger Humphries. Read about it!
December 21, 2013
University Book Exchange, Greenville, NC
Book signing with author, designer Eva Roberts, and B-1 vet Huey Lawrence.
The afternoon's treat was Huey Lawrence (pictured below) sitting in on a tune with the Quincy Jones Trio. Also as part of this event was ECU historian John Tucker, who signed copies of his two local history books, one on ECU and the other on John Kennedy's 1960 campaign travels in NC.
December 17, 2013
Quail Ridge Books, Raleigh
Book signing with author.
December 13, 2013
Greensboro, NC, Triad Stage
Frank Stasio interviewed B-1 vet Calvin Morrow and author Alex Albright for a live broadcast of "The State of Things." Listen to it. 
December 13, 2013
Scuppernong Books, Greensboro
Publication party, with author and B-1 vet Calvin Morrow.
October 14, 2013
Chalmette High School, Chalmette, LA
Author discussion about B-1 at the high school where he taught U.S. History and English in 1980-81.
October 9, 2013
National World War II Museum, New Orleans, LA
Lagniappe lecture by author on B-1.
2003
B-1 was honored at East Carolina University for its weekend reunion, which featured a reception hosted by AKSs from eastern North Carolina prior to a concert in their honor by the U.S. Navy Show Band, led by Chief Musician James Malmgren, and the North Carolina A and T jazz ensemble, directed by Prof. John Henry, Jr., with B-1 vet Huey Lawrence sitting in for a few tunes.
In attendance from B-1: Robert Brower, John Clay, John Gilmer, Wray Herring, Simeon Holloway, Dr. Richard Jones, Roy Lake, Huey Lawrence, John Mason, Calvin Morrow, and Abe Thurman.
Several bandsmen also were interviewed for the university's special collections B-1 papers.