Description
3 collectible items produced by Leverett T. Smith to commemorate readings by Price at North Carolina Wesleyan College in Rocky Mount
1. photograph of Reynolds Price by Caroline Vaughan, on front of  folded card announcement/mailer for Price's reading at NCWC on October 24, 1989.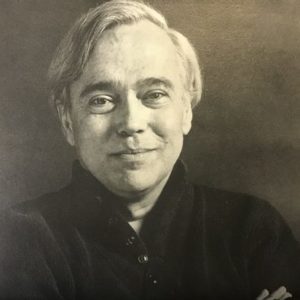 2. poem "Consolation" by Reynolds Price, on interior of card commemorating Price's reading at NCWC on October 24, 1990. Letterpress limited edition of 500. Cover is a detail of a zinc-plate etching, "Summer Oaks and Porch," by Barbara Sydenham Thompson [1938-1972]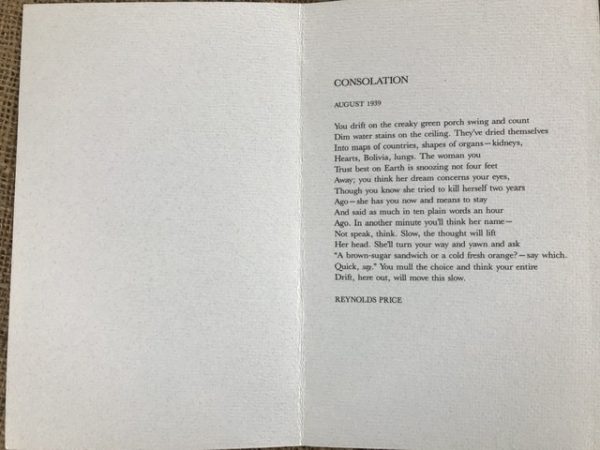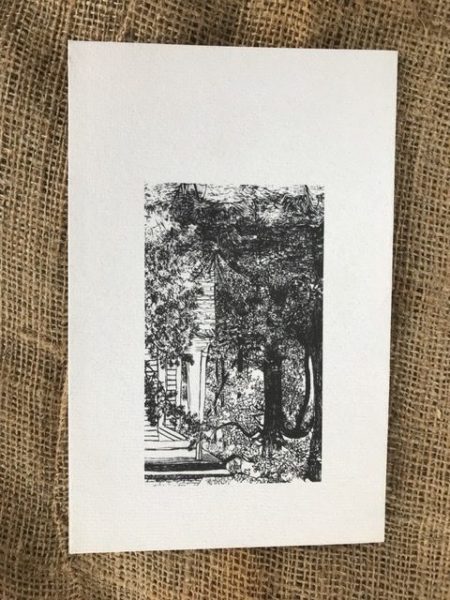 3.  poem "Spring Takes the Homeplace" by Reynolds Price, 3 pp., letterpress limited edition of 500 published by NCWC Press on the occasion of Price's October 24, 1989 reading at NCWC. Printed by Heritage Printers, Durham, in Dante types; title in blue ink; text in black ink. Designed by Jonathan Greene. The poem was previously published in the New Yorker.
       Anyone who's ever had a home place will love this poem, and it's especially sweet when read aloud, slowly. You'll get a Faulknerian feel–through time and place–that might easily take you back to your own home place and family. Or simply to an appreciation of all who've touched those door knobs that open into where you now live, or might have closed as they left for the last time.