Carolina in the Fall: Wilkesboro Music Festival Ushers in Sounds of the Season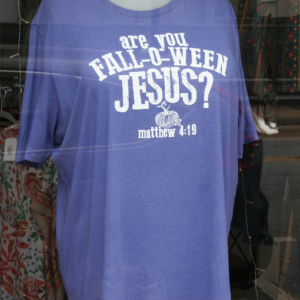 "Are you Fall-O-Ween Jesus?"  
A purple t-shirt with the words emblazoned in white is displayed in a shop window like a country church sign. It's directly across from the "Suck it Up Milkshake Co." in downtown Wilkesboro. Skeletons lounge on benches in front of the store, their bare-boned chests covered, deputized as Kruger Brothers t-shirt models. Just around the corner, painted on the side of a brick town building is a mural of Doc Watson.
The 8th annual Carolina in the Fall music and food festival stage is set up between these displays of small-town whimsy and the old county jail. The austere brick building in service until 1915 is perhaps best known for housing Tom Dula, arrested for the murder of Laura Foster in 1867 and immortalized in the traditional North Carolina folk song "Tom Dooley." Next door is the old county courthouse, now the Wilkes Heritage Museum with the Blue Ridge Music Hall of Fame. 
The brain child of festival director Dale Isom and hosted by the Kruger Brothers, the Carolina in the Fall festival was almost certainly conjured by the brothers' song by the same name that inspires both collective sighs of contentment and audience sing-along participation each time it is performed.
The Kreugers, who say they "feel home here more than anywhere in our life," hail from Switzerland, but in 2002 they moved to the United States and subsequently settled in Wilkes County. They've carved a distinct niche for themselves in the musical landscape with a genre-bending synthesis of bluegrass, folk and classical. Joel Landsberg rounds out the trio with bass–and quite a lot of personality)–and often, as for this festival, they are joined by drummer Jody Call.
Falling on the weekend of the autumnal equinox, the two-day festival included 10 bands this year; 8 hail from North Carolina. Four of those 8 were from Wilkes County. Selling tickets for a VIP experience–with a swag bag, snacks, and premium seating–the festival also offered public accessibility with a free option for anyone to set up a folding chair behind the paid section. Cindy Baucum, host of "Knee Deep in Bluegrass" was the master of ceremonies.
Friday evening the moon was a glowing half moon-pie against a darkening RC Cola sky. Strands of white lights criss-crossed and twinkled above, like stars over a garden party.
As if on cue, Balsam Range launched into "All that Glitters," showing off Buddy Melton vocals that earned him two IBMA male vocalist of the year awards.
When the sound of a loud vehicle passing became more than a little noticeable, upright bass player Tim Surrett said, "We call that the redneck mating call. It usually happens when you're singing the acapella gospel song."
In anticipation of their new record to be released in December. Balsam Range included some new material, like "Snake Charmer," sandwiched between longtime audience favorites.
Surrett charmed not only reptiles, but the audience, confiding conversationally, "My wife bought this hat because we binge-watched Breaking Bad. I put in on and she said 'You look more like 'Breaking Baptist.'"
On Saturday the festival began at noon, opening with local Shay Martin Lovette, who won the 2013 Chris Austin songwriting contest held at Merlefest. Included in his set was "Heat Lightning," a song written by his brother Chad. A memorial run was held Saturday morning to raise money for the American Cancer Society in memory of Chad, who passed in 2016 following a battle with brain cancer.
His and Hers, a Davie County band named after a popular wedding gift–monogrammed bath towels– was an unexpected standout. Husband and wife Caleb and Sarah Davis, demonstrated that marriage can indeed be harmonious, with numbers like "Your Love Is Evergreen" and "Carolina Waltz" but also showed versatility in the addictive driving beat of "Alabama Dope Fiend."
Jens Kruger invited members of the Thurler-Mosimann Project to the stage, describing theirs  as "true Swiss folk music" with guitar, bass, and not one but two squeeze boxes. (Technically the small accordion is called the Schwyzeroergeli.) "Can you smell the cheese?" Jens asked, teasing that he invites the group because they bring them cheese over from Switzerland. Performing all instrumentals, their sound ranged from Zydeco to Irish flavor, driven by the distinctive accordion sound.
It's easy to understand why Greenville's Pattie Kinlaw and Hank Smith of Raleigh were invited to bring their full band Hank, Pattie, and the Current to Carolina in the Fall. Their signature sound shares a thread with the Kruger Brothers, including Hank's elaborate  orchestral  banjo stylings to go along with Pattie's classical/bluegrass split personality fiddle and smooth vocals, accompanied by Billie Feather's animated guitar and Stevie Martinez' bass undergirding.
Hailing from upstate New York, the Gibson Brothers with their downhome style and sibling high harmony quickly reassured the audience that they're nothing like the salsa commercial "New York City?" They opened with "What a Difference a Day Makes" from their 2023 Darkest Hour album, and also included longtime favorites like "Something Coming to Me."
The Gibsons introduced "Ring the Bell," saying "This is for Larry." Larry is an 80-something year old artist who drove from Oklahoma with his wife to visit Asheville, and upon learning about the festival, drove the extra 2 hours each way, both days. Settled in a patriotic lawn chair in the free section, Larry explained that he'd been going to festivals when Bill Monroe and Jim & Jesse were still alive. He values traditional bluegrass, he said, "but you need the new stuff too," settling once and for all the debate over bluegrass versus newgrass, at least in his opinion.
"Let's sing another one I can't remember," Leigh said after bumbling a few words in "Walking West to Memphis. "I started on time and ended on time. It's the east German judge that's going to get me on the score."
"I thought you nailed the yodel pretty well," Eric volleyed back.
From Brevard, Woody Platt is no stranger to festival goers, having been a founding member of the Steep Canyon Rangers. He left the band last year to pursue both solo projects and a touring collaboration with his wife, Shannon Whitworth. Performing mostly Whitworth's original material, the duo, along with a full band, demonstrated their individual talents that they admit they're still navigating how to integrate.
The host band anchored both nights of the festival, opening Friday night with an instrumental that would make "Stairway to Heaven" seem like a short ditty.
On Saturday, they opened with  "Appalachian Concerto, first movement," one of Jens' compositions.
Bantering about acclimating to life in the south, Jens said they've had to get used to some differences. For example, livermush. "In Europe, livermush is a condition."
"And it's not good," Uwe Kruger added, "Three months, tops."
"I just found out the worst insult you can give a southerner," Uwe said. "You make potato salad with Helmann's."
An important part of the Kruger Brothers' magic blend is their affinity for collaboration, inviting fellow musicians to jam with them in front of a live audience. When the Gibson Brothers were called to the stage, Eric Gibson said, "Want to do some Bill Monroe? How about 'I Wonder Where You Are Tonight'?"
Jens laughed and said, "We used to call that 'I want to wear your underwear tonight.'"
The Kruger Brothers seemed reluctant to leave the stage as they jammed with guest musicians well after the scheduled end time of the festival, and no one in the audience was in any hurry to leave. The words to the festival title song resonated: 
Yet the picture in my mind I see when I think about it all 

Is the color of the leaves in Carolina.. . . in the Fall.
• • • 
Originally published in the Daily Reflector September 30, 2023.