OcraHope: Ocrafolk Music Festival Chases the Blues Away
My whole life I've been saying I'm from eastern North Carolina. Apparently I was wrong. I drove due east an hour and a half, crossed the Pungo River, past a sign pointing to a museum that features fleas in formal attire and pickled curiosities (best unidentified) in jars. Alongside marsh grass and the Ponzer Volunteer Fire Department. By a metal roof blown off a structure and resting in suspended animation, as if a hurricane happened 15 minutes ago. Past a historic marker commemorating the British Invasion that occurred in 1813 thirty miles across the Pamlico Sound. After another two and half hours' travel by the Swan Quarter Ferry, I discovered North Carolina's far east: Ocracoke.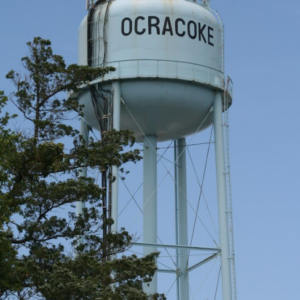 Maybe Ocracoke is Carolina's red-headed step-child, continentally detached as it is. But two things are immediately apparent upon stepping foot inside the village: it is a fiercely adored strip of land, and its residents have seen their share of hardship. In recent times, a pandemic was probably not even the biggest problem the island dealt with. They are still trying to recover from the 2019 devastation of Hurricane Dorian. A number of Greenville churches and civic organizations supported that recovery effort. And maybe that's why the 2021 Ocrafolk music festival held the weekend of June 4-6 was so special: it was a sign of return to normalcy.
The 2021 festival t-shirt was appropriately emblazoned with a phoenix rising from the ashes. Also available was a 2020 festival shirt for "the festival that wasn't" with a clever banjo design, the instrument neck fashioned out of the narrow island strip. Listed on the back of the shirt were the fictional featured acts, including the Quarantines, Purell Trio, the First Responders. And there was the COVID Strings Band, a Route 12 Pandemic, the Charmin Bros., A Mask Requirement. Then there was even OBX Gloved Fiddlers, the Curve Flatners, and the Essential Workers Band.
This year's music festival was not without its hurdles. Planning had to begin long before the governor's relaxed mass gathering requirements were announced. And then when things seemed to get a little easier, Weather, that fickle mistress, caused plenty of consternation. Festival goers would have been better off relying on a Farmer's Almanac or a wooly worm for rain prediction than their Smartphone app, which changed with every consultation.
Those taking the ferry over on Friday weathered the elements, channeling ancient mariners standing on a ship's helm with wet, windswept hair.
A Field of Dreams
"This is the Golden Stage," Rodney Kemp announced on Saturday. A festival veteran from Morehead City and master of ceremonies, he was proud to tell everyone that he had been there since the beginning, 21 years ago, performing as a storyteller. "But yesterday we just called it Golden Pond."
And it wasn't just a good joke. It was true. Held this year on the grounds of the Berkeley Manor, the festival location was obliged to return to its roots…where it was located the very first year. In more recent years it was held near the Books to be Red, an Ocracoke book and pottery store, but the area still had too much construction going on following the hurricane.
But executive director David Tweedie (known as "Fiddler Dave" from Molasses Creek band) already had plenty of experience in agile project management. Friday's rained out festivities were nimbly relocated from the soggy grounds, indoors, to "The Barn."
"This is my favorite venue," Kemp continued in his introductions. "Because this audience is so receiving. You are here for a purpose…Nobody comes to Ocracoke by accident."
As is common for music festivals, the weekend was action-packed, with multiple bands playing at the same time, on different outdoor stages. There was the Barn Stage, Golden Stage (named after John Golden, a musician known and beloved in the area who passed away earlier this year), and the Workshop Stage. 
No sooner would I be in rapt awe of a band on one stage when my husband, a floater taking photographs, would stop by with whispered reconnaissance, "There's a guy playing accordion on the other stage." And it was the equivalent of shouting "Squirrel!" to a hound dog.
A Joyful Noise
Even as Wyldwood String Band, including Greenville native Sarah Hollis, played on the Workshop stage, a New Orleans style parade led by Paperhand Puppets and a band marched noisily by. The giant, colorful papier-mâché and cloth puppets flapping in the wind personified the festival spirit, even as the rhythmic beat urged festival-goers to join in the revelry. Wyldwood didn't miss a beat, spontaneously adjusting to a song with a similar tempo.
Lakota John, a left-handed guitar player from Pembroke, said, "This is my first time on Ocracoke Island. Everyone here has been so loving and welcoming." He played a song made popular by Leon Redbone, called "Lazy Days," along with an original about Circadian rhythms and "Greenbriar Blues," inspired by the people in a rest home in his hometown.
Then he did something that was initially surprising, but would later emerge as common practice throughout the weekend…he invited another musician (that he had not practiced with) to join him on stage. A gifted, young violinist, Omar Ruiz-Lopez from the band, Violet Bell would find himself in high demand and would often be seen playing on one stage, and miraculously, show up on another immediately thereafter.
An Ocean of Emotion
"Coming back to doing shows…there are just so many emotions. It's hard," said Kris Truelson, anchor of Bill and the Belles, a retro-style Americana vocal and string band out of Bristol, Tennessee. "To dive head first feels so amazing." 
And the band's song choices echoed the emotions experienced by a lot of musicians during the past year: "I'll Never Be Happy Again," "The Old Lonesome Blues," and the more hopeful, "I Think I'll Be Okay."
"We have two more happy songs in this set," Truelson says, "We'll get those out of the way right now": "Get Up and Give it One More Try" and "Sunshine Song."
Hearing storyteller Donald Davis, who is no relation, was a bucket list item realized. "If you could flatten out Haywood County," he said while spinning yarns about his childhood stomping grounds, "you could cover the state of Texas." Apparently the same principle applied to his eccentric great aunt Laura: "We used to say if you could flatten out the wrinkles on Aunt Laura, you'd have two or three people."
Ocracoke fixture Molasses Creek opened their set with a tribute song by Tommy Edwards, the Siler City bluegrass musician who played in the Bluegrass Experience for 50 years, and who recently passed. The song was the cheerful "That's What I Like about You."
"We've all been through a little bit over the past year, especially the people of Ocracoke," band member Kim France says. "We dedicate this song to them." The song was aptly titled "Hope Hard Times Come Again No More."
Don't get me wrong. The festival spirit was anything but morose. Molasses Creek offered up a fun, finger-lickin' Tommy Edwards song called "Holy Smoke" about North Carolina barbecue. It includes the lyrics that anyone with North Carolina roots can understand: "Eastern style or Lexington / That's a battle that'll never be won."
Striking up a rousing fiddle tune, Molasses Creek was joined on stage by a few members of the Green Grass Cloggers, an old time dance team founded 50 years ago in Greenville by Dudley Culp, soon after he graduated from East Carolina University. Having lost Culp this year, as well as another longtime member, Karen Bartlett, and not dancing a festival since the fall of 2019, participants described the experience as "surreal."
Chatham Rabbits, a husband-wife duo, told the story of their engagement. It happened on Ocracoke Island at the festival 6 years prior. Austin hoped to surprise his intended, Sarah, and pop the question while she was playing at the Ocrafolk festival. Naively, he failed to make a ferry reservation and ended up arriving at 2am, startling folks who had settled in for the night. Thanks to him, he said, Ocracoke residents now lock their doors at night.
Liam Percell and Cane Mill Road, a young bluegrass group from Deep Gap, engaged the audience with the song"The Dixie Chicken" including the line, "If you'll be my Dixie chicken, I'll be your Tennessee lamb, and we can walk together down in Dixieland."
Singing the Glory Down
On the final day of the festival, Ocrafolk took the audience to church with a gospel sing on the Barn stage, opening with a lyrically appropriate song: "The road is rough and the way is long / So let's help each other over / Well you go to your church, and I'll go to mine / But let's walk along together."
"I have a Dorian story," Ocracoke resident Deanna Locke said. "We like to move forward, but it's still with us." She talked about stopping by the church three days after the storm. "I walked into the flooded-out, muddied church, and I sang this song. I want to sing it again today because we've made so much progress."
Her voice rang out with "Great is Thy Faithfulness," including the lyrics, "All I have needed thy hand hath provided."
Musicians from various bands joined together at the conclusion for an "all star acoustic jam," wrapping up with a mashup of "Keep on the Sunny Side" and "This Land is Your Land."
A reminder of the festival's small town charm was to be found in the announcement by the master of ceremonies, "Now after this last song, pick up the chair you're sitting in and the one beside it and stack them over there, under those trees."
Greenville musicians Joe Shingara and Sam Weatherly, who have been attending the festival for several years described past experiences as "wonderful from the moment we got on the ferry to go there." They remembered taking their guitars and performing for fellow ferry passengers. "I thought the boat was going to tilt to one side as folks came to watch us," Shingara said. "I loved being able to go right up to the musicians at the Workshop Stage and talk to them," Weatherly said.
Even with the spirited high-energy festival conclusion, attendees and musicians likely went home with the words of Shana Tucker, a soulful jazz/roots singer and cellist, on their mind, "We leave this place better than we came" and the lyrics to the Molasses Creek tune, "Highway 12"  in their spirits: 
"I'll meet you on highway 12 / Underneath the moonlight / Take all your troubles away / Make everything alright."
• • • 
originally published in the Daily Reflector on June 14, 2021