An Old Fashioned Christmas: It Takes a Village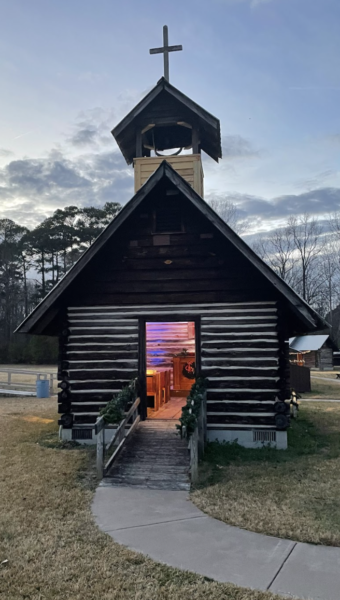 I wasn't guided there by an apparition brought on by an undigested bit of beef. And it didn't require walking 7 miles, one way, in the snow. But last weekend the Eastern Carolina Village and Farm Museum transformed my trusty Subaru steed into a seasonal time machine.
Tucked between Leroy James Farmer's Market and Wintergreen Primary, the museum frequently referred to by its former name, "The Village of Yesteryear," is hidden in plain sight. But the museum supporters rolled out the hand-woven runner (for surely red carpet is too nouveau) for An Old Fashioned Christmas. And just like that, I became one of many area residents embracing the charm of Christmases past.
Nevermind typhoid, polio, measles and mumps. Nevermind hard labor in hot tobacco and cotton fields. Even through the lens of modern conveniences to the point of excess, there is just something about an old fashioned Christmas that is heartwarming. Maybe it's because I grew up reading Laura Ingalls Wilder Little House books, set in an era with corn husk dolls and owning one good dress. Getting excited about a single peppermint stick in the stocking and hearing Pa play his fiddle by the hearth. 
Maybe it's because I'm reminded of my grandmother, born in 1899, who wore a whalebone corset (or so it seemed) under her dress when she went out in public, and plaited her salt and pepper hair into a long braid before going to bed. Christmases at her house featured a dish with hard candy and a supply of nuts ready to be cracked. And oranges. A game of thimble shine. And a box of Whitman's chocolates for each of the grandchildren.
Balmy eastern Carolina weather made the warm cider served with cookies at the event a nicety, not a necessity, and leisurely strolls between buildings more enjoyable. A blacksmith was on duty by gleaming coals, demonstrating traditional methods. His hammer and anvil provided a distinct chink, chink, chink percussive backdrop like Lee Dorsey's 1966 hit, "Working in a Coal Mine."
The sound blended with wafting vocal harmonies from the Greenville Choral Society emanating from the open door of the log chapel. The pews inside the building date from a 1798 Pitt County church. Hand made quilts folded on the backs of the pews were perhaps the original draft-dodgers.
Rough hewn wood floors and modest accoutrements welcomed modern footfalls in the various buildings that had been constructed from materials excavated from historic farms. Visitors were guided by Sharon Arnold, Joanne Honeycutt and other museum board members and volunteers, calicoed and aproned for the occasion. 
A two room log cabin, the like of which I would be happy to call my retirement home, featured a blue and white striped feather ticking bed. My grandmother had one exactly like it. As I walked through, I detected the scents of pine cones and cinnamon and I wasn't sure if it was coming from home-made decorations near the hearth or a young girl walking through, holding what appeared to be a recent craft.
The Satterthwaite Store looked Christmassy, even from the outside, with its red Pepsi-Cola lettering emblazoned against the white building like an architectural peppermint.
Even Santa caught the spirit of Christmases past, sporting a vintage-style suit, surrounded by hay bales and appropriately, red painted farm implements. When not cheerfully greeting guests, he stole a quick visit to a nearby barn where the hootenanny was happening. I'm sure I heard him mumble, "I hear banjos!" When a jammer spotted him standing on the periphery, he launched into a spontaneous, "Santa Claus is Coming to Town."  "I have to do everything I can to stay off Santa's naughty list," the singer quipped.
The museum's focus is to interpret agricultural life in eastern North Carolina from 1840 to 1940, so assembled musicians planned their music accordingly. Situated in an informal circle around vintage plows and farm implements, guitar, banjo, fiddle, bass, and mandolin players strummed with gleeful abandon. Traditional Christmas carols were interspersed between rousing numbers like "Polly Wolly Doodle," "Wabash Cannonball," and "Wildwood Flower." The gaunt ghost of A.P. Carter emerged in the evening shadows, nodding with approval as they belted "Gospel Ship" and "In the Sweet By and By."
But old-timey glory came down when singers from the Greenville Choral Society were also drawn by the banjos and asked to join the St. James Jammers on "I'll Fly Away," which led to "When the Roll is Called Up Yonder," and "Will the Circle Be Unbroken?"
One of the jammers, Alise Rowan, said, "I just kept imagining that if it had really been the late 1800s we really might have all been gathered in a barn, bad lighting, 'airishness' and all, and enjoying the heck out of playing and singing with each other and seeing folks dance and have a good time on a Friday night, the week before Christmas."
Sylvia Bjorkman said that her husband, David, was playing her father's violin that had been his father's, an instrument from the 1920s that had been used to play at barn dances.
And by the end of the night, I think I caught the real spirit of an old fashioned Christmas. It's less about the natural holly berry decorations and homemade cookies and more about a community that feels a lot like family. It's about volunteers spending countless hours decorating and dressing to bring a piece of history to life. Musicians willing to haul instruments through a field in the dark and climb through a fence rail. Accomplished singers joining forces with jammers, enjoying a moment. An old fashioned Christmas takes a village.
• • •
Originally published in the Daily Reflector December 25, 2021.